The clumsiness of power cords is perhaps the most common reason why we all prefer cordless rotary hammer drills.
Of course, sometimes we have to trade with the power output and impact energy for convenience but as we have noted a couple of times before, the art of drilling is also in how we hold the machine. That is enough argument to get yourself a wireless drill.
Top 7 Picks for Best Cordless Rotary Hammer Drills:
Owning the best cordless rotary hammer drill for concrete and other hard materials is a real lifesaver. Supported with a pack of masonry bits, you never have to worry about drilling onto any surface.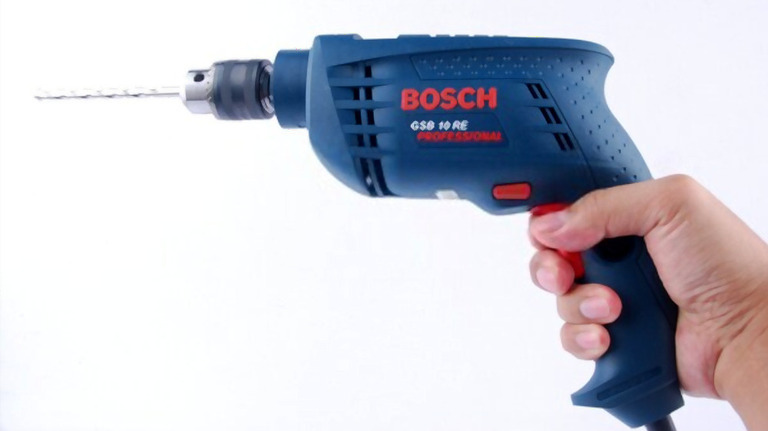 At Laser Level Hub we like to call it the all-rounder: you can carry it wherever you want, drill on to any material on Earth (at least all of which needs boring, if you know what mean), and use it as a regular drilling machine, a hammer, and in some cases, as a demolisher.
When there's so much packed into a single nifty power tool, you deserve it. Not just any drill but only the best cordless rotary hammer drill.
Here's a quick look at the top cordless rotary hammer drills currently in the market:
7 Best Cordless Rotary Hammer Drills 2023

Best Overall

DeWALT DCH273B

SHOCKS active vibration control
Outstanding power-to-weight ratio
Ideal for overhead applications

Read My Review

Best Value

DeWALT DCH273B

2.6 joules of impact energy; high speed
Complementary adjustable handle and depth rod
Three settings: drill, hammer, and chip

Read My Review

Heavy Duty

Bosch RH328VC-36K

70% power soft start for precision drilling
Dust extraction support
Long-running and efficient 36V battery

Read My Review

Powerful

Makita XRH01Z

Brushless motor for long-term use without wear and tear
HEPA vacuum attachment support for dustless drilling
Reverse rotation mode (for driving)

Read My Review

Lightweight

Milwaukee 2416-20 M12

Tiny and lightweight at approx. 3.25 pounds
High power even with its 12V battery
Durable build; can last for years

Read My Review

Good Price

Skil RH170202

User-intuitive design with intelligent button placement and features
LED light with a 10-second trigger to work in dark areas
Supports screw driving with both directions

Read My Review

Best Budget

Ryobi P222

1,300 RPM high speed
Extremely lightweight at approx. 2.65 pounds
3-mode selection (rotary hammer, rotation only, chisel)

Read My Review
Why Trust Us?
The idea of ordering something off the Internet only to find out days later when it arrives that it is nothing like you had imagined it to be can be highly upsetting. Especially if it's a big investment like an industry-grade power tool. Or if you wanted it for an emergency.
Dealing with the returns can sometimes worsen the issue, making you altogether lose the interest in buying the product. So you rush to the nearest Home Depot and are forced to buy it on an inflated price tag.
It is for that reason why our team of power tool experts sat down and tested over a dozen different rotary hammer drill models.
All of these cordless rotary hammer drills were tested under extreme conditions over a period of two weeks. Battery backup, power and impact energy, and portability were the major testing parameters. Ease of use, versatility, battery backup, ergonomics, and compliance with safety were the next important parameters.
The good thing about this list is its diversity.
Instead of just focusing on the best cordless rotary hammer (which is often tagged with a premium price) we have made sure that each of the seven models targets a specific type of user.
The DeWALT tool at #1 is the best in all departments while the second one is for those who need full value for money and a bit lighter machine.
There's also a heavy-duty Bosch model and a lightweight Milwaukee cracker. The last one by Ryobi is for home users and DIYers who may not want to shell out much.
Suffice to say that a quick look into this list and you will find the ideal cordless rotary hammer for yourself.
Best Cordless Rotary Hammer Drills 2023
#1 - Best Overall: DEWALT 20V MAX SDS Cordless Rotary Hammer Drill (DCH273B)
Sometimes owning the best tool brings out the best in you. The adage sounds truer when you are operating DeWALT's cordless macho tool – the DCH273B – the best cordless SDS hammer drill for the modern man.
Best Cordless SDS Hammer Drill: DEWALT DCH273B
Product Review
The thing that makes the DCH273B to be considered the best cordless tool is its ability to supply high power through its light structure (just about 6 pounds).
Professionals who want to drill through hard materials like concrete usually go with corded tools because they need the high impact energy for the bit to pulverize the surface and then bore through it.
With this DeWALT, there is no trading off power for convenience. You fire it up with a FLEXVOLT battery and this beast will give you the power that you need. About 2.1 joules of impact energy through its SDS+ chuck system: the speed that you want.
With the right masonry bits, the multi-mode tool can drill through all types of hard materials including rock, sandstone, and brick.
Its patented SHOCKS vibration control system means your hands will not shake during the use, making it convenient for overhead applications and for beginners.
DeWALT goes on to claim that the DCH273B is intended for such applications where the operator may need to go higher where there are no power sockets.
The brushless motor is soundless and efficient, giving you a tool to depend on for years. The complementing features of a 360-degree handle, depth rod, and a retractable utility look only add to the glamor and convenience.
Perhaps, what makes it deserving of the number one ranking on this list is its compliance with OSHA regulations and the support for dust extraction.
Use a HEPA filter or attach it with a kit to achieve 99.99% dust-free rotary drilling. Although a bit heavy on the wallet, this DeWALT promises quality, delivery, and reliability. That's what matters in our line of work.
Expert Tips
This SDS rotary hammer drill model does not come with batteries, charger, or a case.
You can opt for a FLEXVOLT 20V or 60V battery to go with it. And if you need a hard case for it, check it out on the DeWALT website for part number 576657-05.
#2 - Best Value: DeWALT 20V MAX XR Cordless Rotary Hammer Drill (DCH133B)
Remove about a pound of weight, remove support for overhead applications and dust extraction and you have the best valued cordless rotary hammer drill with you. The affordable version of the DCH273B.
Best Value Cordless Rotary Hammer: DeWALT DCH133B
Product Review
Imagine at a job site you want to get your drill into a position that lets you bore a 1/4-inch hole on a cemented slab.
Most power drills will have the power to do it but not the compact built or the ergonomics. While some may not fit the area properly, others may find the cord or the long structure come in between the process.
That is when you turn to a cordless rotary hammer like the Dewalt DCH133B, an affordable alternative to the above model.
Weighing just about 5 pounds, it has a motor that can deliver a fast and powerful drill more than you can find in most premium corded contemporaries. This is the edge that you get which you need in certain applications that demand good speed.
It is also an apt drill for chiseling and ripping applications. Attach a flat SDS chisel bit and chip away ceramic tiles and thinset.
The torque provided by this battery-powered machine is enough to get the chipping activity done in a quarter of the time it takes through other methods.
However, users should know that this DeWALT fairs slightly lower on the battery discharge department.
So, make sure you carry an extra pair for long jobs. There's also no option to attach a HEPA filter, but it is OSHA-compliant if you plan to use a vacuuming kit.
Expert Tips
This model does not come with a battery, charger, or case. If you are a first-time user, you should get the whole kit available on Amazon.
While this model is not meant for wood, you can still use it by attaching the appropriate bits: twist bits, spade bits, or hole saws.
#3 - Heavy Duty: Bosch RH328VC-36K SDS-plus Cordless Rotary Hammer Drill
Packing more power than the above two models is this piece of German technology intended for heavy-duty applications like jackhammering your way through thinset or drilling holes larger than a foot on concrete slabs. This is a veteran beast with a sharp eye for precision.
Bosch Heavy Duty Cordless Rotary Hammer Drill: RH328VC-36K
Product Review
A lot could be said about the Bosch RH328VC SDS Plus hammer drill, and still, it wouldn't be enough to describe all that it is capable of.
Its Four Pole motor gives out outstanding power to drill through most materials like stone, rocks, and concrete.
Because it runs on a heavy-duty 36V battery (comes complementary) there's no way you are going to go low on the power required for any given task. Add all the supporting convenience to the mix and you have yourself a "tool for all trades."
With electronic precision control to help you start off with 30% less power (no more walking or sliding of the bit on the surface), integrated acceleration sensor and kickback control to help with situations where you bind the bit on the surface, vibration control, and Vario lock positioning.
&t=7s
This Bosch cordless rotary hammer will sit in your hand like a stationary object and you power it on and let it do the job. No vibration, no heating up, no running off. It's like holding a traditional hammer but with 1000x power and the magic of torque.
This is the first model on this list that comes with an entire kit, including 4.0 Ah FatPack batteries. The SDS Plus chuck is a no brainer but we should note that it does not have a brushless motor.
Does the LED light make up for it? Not really. But for all the things that it does without a silent hiss from it, we are not complaining.
Expert Tips
This tool is less than 2x heavier than most cordless rotary hammers. Therefore, you should exercise caution and handle it with care the first few times of use, especially if you are a beginner.
#4 - Powerful: Makita XRH01Z 18V Cordless Rotary Hammer Drill
There are times when you need all the power you can get without blowing the motor to full speed and without straining the machine with pressure.
This Makita is meant for those applications. Sturdy, powerful, and packing.
Makita XRH01Z 18V Cordless Rotary Hammer
Product Review
What we like in the Makita XRH01Z when compared to the top three cordless rotary hammers is its blend of high power and compactness.
You don't get that much in any other 7.2-pound power tool that runs on batteries. Only Makita can develop a hammer tool that is designed to cut through concrete like it's butter.
The 3-mode drill further gets our love with its automatic torque limiting clutch which prevents gear damage, an essential feature for if the bit starts binding (which, let's agree, happens more than often). This makes setting 5/32-inch concrete anchors and similar jobs a hassle-free experience.
The reverse mode is an additional feature that comes handy when you want to bore a cavity or want to use it as a reverse impact driver.
The HEPA vacuum support is definitely a life-saver if you get the dust extraction kits.
As we have previously discussed, the issue of dust from drilling is a real menace, and to prevent that you need a real drill. Makita ensures that its tool is powerful and safe at the same time.
Expert Tips
We recommend buying an extra pair of 5Ah batteries as spares to go with the 3Ah batteries that are suggested for this model.
#5 - Lightweight: Milwaukee 2416-20 M12 SDS Plus Cordless Rotary Hammer Drill
Another American brand on this list. Brings one of the smallest yet powerful rotary hammers we have seen.
Lightweight Cordless Rotary Hammer: Milwaukee M12 SDS Plus
Product Review
The Milwaukee 2416-20 is so small it is a treat to carry it around in job sites and get light to medium drilling done with great speed.
Since it has been made for moderate drilling applications, we don't recommend using it for heavy-duty ones like cutting blocks on a concrete slab.
The 3.25-pound frame (without the battery) is a technology marvel as you will marvel at the lightness of it even as you put all the power on to the surface you are boring.
Need to drill inches deep into a concrete wall? Easy.
How about through a tiled stone with a thick thinset? The 2416-20 lightweight SDS drill, powered by a small 12V battery, will do it without any complaints.
However, with the low price and the light frame come a few gaps in its features. While the battery discharge is impressive, this tool is not suitable for chiseling. You will only end up damaging the motor if you attempt it.
Expert Tips
Invest in a pair of 6Ah batteries if you intend to drill long holes and with continuous use.
#6 - Skil RH170202 SDS-Plus Cordless Rotary Hammer Drill
A lot of user-intuitive features have been packed in this low-cost rotary drill that it becomes difficult to overlook it.
If you are especially feeling tired of the known names above, give Skil a try and you'll never go back.
Skil RH170202 SDS-Plus Cordless Rotary Hammer
Product Review
Holding a Skil tool is always a pleasure because you can do a lot more with it then just drill.
In the RH170202 you can drive screws into stuff, drive them out of stuff, work in dark areas with an impressive LED light (slightly better than the Bosch above), and can control speed throughout the drilling process. All this with an all-powerful motor and Skil's own guarantee of not getting worn out.
It promises so much that there's no reason you won't fall for this strongly built kid that runs on PWRcore Lithium-ion battery with a running time of 6 hours in continuous operation.
The charger that it comes with can fuel it up in about an hour. The RH170202 is also very light at about approximately 5 pounds, making it the perfect portable rotary hammer for most tasks.
Intended for both advanced and home users, this can drill through masonry and concrete as smoothly as a heated knife cuts through butter in room temperature.
There is no jackhammering function in here, which is why we had to rank it at #6 on this list.
Expert Tips
This Skil cordless drill is so intuitive that you can manage the LED and rotation mode with your thumbs while using it.
#7 - Best Budget: Ryobi P222 18V SDS Cordless Rotary Hammer Drill
A budget tool for the home user, this Ryoi can do wonders from inside its light structure.
Ryobi P222 18V SDS Rotary Hammer
Product Review
The advanced version of the P221, this model is known for its compactness and light weight.
The high speed of 1,300 RPM is a competing factor, which makes sense if you are using it for drilling only. The chisel model is not that impressive, but it still manages to chip off tiles from a wall with the right bit.
The LED light is a cool feature that makes it a tool that you can carry everywhere.
But don't depend too much on its battery as we found that it drains very quickly on continuous use. The lack of side handle and depth rod is not a real issue because it is not meant for advanced users.
Ryobi has been in the scene for decades now and it knows what works when it is manufacturing a middle-of-the-line tool intended for home users.
It has enough power that can drill through concrete without a hiccup, and it is marketed at hobbyists, DIYers, and other users who will use it occasionally. We say perfect!
Expert Tips
Get an extra pair of Ryobi batteries if you are going in for a big job.
Final Verdict
These were the top-rated cordless rotary hammer drills in the power drill market. We can assure you that there's no tool that's better than these seven in their own sub-category.
In the case that even after going through the reviews, you are still torn for a decision, we will help you with why the top three are the best.
Best Overall – DeWALT DCH273B is an unofficial leader when it comes to cordless rotary hammering. Its ease of operability even in overhead applications and the support for dust extraction makes it the number one choice among experienced construction workers. It is also the top-selling model among contractors, which confirms out test results as to its sheer operation-level quality and reliability. There's no concrete slab that this beast cannot bore through
Best Valued – The second DeWALT model is known for its light weight, one of the essential parameters of a portable drill. With slightly more power deliverance than its cousin (above),the DCH133B is a work of pure genius because it ticks all the boxes
Heavy Duty – Concrete drilling is a heavy-duty work and who better to understand that than Bosch? When they first released the RH328VC, it broke the market. Such its user-intuitive technology that it received a lot of love from both beginners and advanced users.
While the remaining four are also equally sharp and powerful, they have some limitations that advanced users may not appreciate.
That is why they are intended for home users, DIYers, and hobbyists who do not want to spend much but still need support when the evil concrete comes between them and construction.
We hope this guide has helped you find your ideal drill. Happy drilling!