You never know when you will need a backup power generator. But a construction site generator is not just for emergencies; it can also act as a backup when you need more, standalone power.
Say, you are working on a project at home and want to connect your power tools to a source other than your mains. What do you do?
You get the best jobsite generator for your needs and carry on with your project.
Best Generator for Construction Job Sites:
This way, you not only get ample power for all your power tools and equipment but also keep your home appliances safe. It is even more important in construction sites where additional power is often a typical need than just an exigency.
So, if you manage construction jobsites or if you are a weekend hobbyist who works different projects at home, you need a backup generator. Let us take you through some of the best portable generators for job sites.
Best Jobsite Generators in 2023

Best Quality

Honda EB10000

Strongest motor and superior built quality
High surge wattage of 10,000 W
Heavy-duty operation and long run time

Read My Review

Heavy Duty

DuroMax XP15000EH

Approved for use in all 50 states in America
All-metal construction
Very high surge and running wattage ratings

Read My Review

Great Value

Champion 100891

Dual start options with battery-operated electric start
Intelligent tracking functions for voltage, surge protection, and overload
Robust motor and strong built

Read My Review

Good Price

DuroMax XP8500E

Dual fuel generator; works on gasoline and propane
Long run time of 8+ hours at 50% load
Strong built for longterm use

Read My Review

For Small Tools

Champion 100574

Works on both propane and gasoline
Compact kit provides high portability
Parallel kit support to increase the rating by 2,800 W

Read My Review
What Generator Size Do I Need for a Job Site?
Outages are rare in America. But there have been at least two major blackouts in US history in the past century, both in the Northeast and the Midwest. One in 1965 and the most recent one, which is still fresh in the mind for most of us, in 2003 which affected nearly 55 million people.
Getting a heavy-duty generator is, therefore, a great way to handle emergencies. With the effects of climate change becoming more aggressive, you never know when the next big outage hits us. So, now seems like the right time to invest in an industrial generator, both for household and commercial purposes.
But how do you decide which generator to get? What size is ideal for you and your power needs? What wattage rating is ideal?
If you are like us, you like to research and plan before you swipe that plastic on the machine. So, here's a quick primer to help you select the best portable generator for job sites.
Factors to Consider
When choosing your backup generator, look out for these factors:
Running (rated) wattage – The power required by your tools to operate continuously

Starting (surge) wattage – The power required by your tools to start up. This is usually higher than the rated power

Efficiency – Higher the efficiency of your tool, less extra power it will require to run it
Basically, your generator selection should depend on the number of watts you need. Home users and professionals will have different requirements, so calculate accordingly. For example, if you are only going to run a power drill and a portable grinder for your project, you will need a total wattage of 600 W plus 1,300 W to run them at the same time. So, a generator with a wattage of around 2,400 would be sufficient.
But keep in mind that it's always better to have more wattage than less. You never know when a need to run another power tool arises.
Home appliances such as geysers and air conditioning systems require more power, so choose accordingly. You may refer to this handy wattage table to calculate the desired output.
However, if you are clueless about your needs, here's a rough selection guide:
Low wattage generator (up to 4,000 watts) – for small tools

Medium wattage generator (up to 8,000 watts) – for mid-size and small tools

High wattage generator (up to 12,000 watts) – for home appliances and power tools
The key is to calculate the desired output by calculating the load of all your tools and appliances. Never use more tools than the rated wattage to avoid damaging your generator. If it's an emergency, try using portable power tools to minimize the load on your generator.
Pro Tip #1 – Keep in mind the starting wattage of some tools, which is often at least 15% higher than the running wattage. A power drill with a running wattage of 600 W usually has a starting wattage of around 900 W.
Pro Tip #2 – If your total power requirement is 6,000 W, always choose a generator that supplies between 6,600 and 7,000 W (i.e., 10% more power). This will ensure that you can cover all your tools and equipment and some more.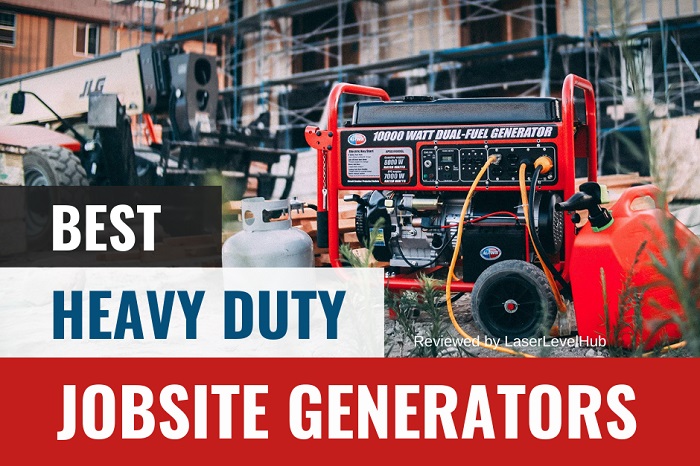 Best Jobsite Generator Reviews
Best Jobsite Generators Reviews 2023
You will find detailed job site generator reviews here, classified according to the wattage of the models. We start with low wattage generators, moving to medium wattage, and then finally high wattage ones. Together, we have reviewed a total of ten job site generators to help you make a wise choice.
Best Generators for Small Tools – Low Wattage (3,500 Watts to 4,000 Watts)
The following three generators are great for home use, weekend projects, and basic construction job site use. Intended for home users, hobbyists, DIYers, small-time contractors, and aspiring professionals.
#1 - Best Value: Champion 100574 4000-Watt Dual Fuel Inverter Generator
American manufacturer Champion is a global leader in the power generation sphere, selling millions of inverter generators for job sites and other power generation equipment. Its products are widely known for their robustness and lifespan.
Best Generator For Small Tools: Champion 4000-Watt Dual Fuel Inverter Generator
Generator Review
Think of an inverter generator and you think of a bulky box-shaped machine that whirs and chugs making a continuous loud noise. Fortunately, that is no longer the case with modern power generators. More importantly, that is not the case with this 4,000 W Champion equipment, one of the best generators for small tools.
Its dual-fuel option is the feature that gets us. Power it up using gasoline or propane (liquefied petroleum gas) and it will run for at least 12 hours at 25% load. This way you can choose the one that costs less (propane) and get equally clean sinusoidal AC power. It will run for nearly 15 hours on gasoline and can be used for a variety of home, work, and play applications not limited to charging RVs, running home appliances, and powering mechanical and electronic tools.
The 30V RV outlet, two 20A household AC outlets, and 12V CD outlet with USB adapter in a single clean panel give you a variety of options to charge your tools and appliances. It's easy to control and move around, thanks to the wheeled kit that it comes in.
And if the max rating of 4,000 W is not enough, you can also attach a parallel kit and increase it up to 2,800 W. Making it a perfect intermediate-level power generator for home and commercial use.
Pro Tip – Purchase a bottle of motor oil along with this generator. The package does not provide it but it is essential for the motor to run.
#2 - Best Budget: Westinghouse WGen3600v Portable Generator
Westinghouse Electric Corporation has been around since the nineteenth century and is one of the oldest manufacturers on this list. Decades of innovation has made it a leader in the industry as it continues to provide solutions for each and every need in the American household and construction job sites.
Best Budget Generator For Worksite: Westinghouse WGen3600v Portable Generator
Generator Review
The WGen3600v is primarily intended for home use, with its modest wattage rating. But it is still a powerful beast for the money, giving you a surge output of 4,650 W. A bit heavy (which can be managed by a wheeled kit) and slightly loud, it gains points from us for its steady, clean power. No matter how many controlled devices you have connected with it, this Westinghouse machine will supply power consistently.
It runs on gasoline and has a smaller tank than the Champion model above, but it can still give up to 13 hours of power at 25% load. We say that's the real feature here, even if you don't consider its dual-fuel limitation.
But what we really like is the plug-and-play packaging. Once delivered, you can use it right away with minimal assembly required (oiling and recoil start-up). That's something that we know will appeal to the home users and hobbyists who don't want a lot of trouble maintaining equipment like this.
Minor features like outlet caps, maintenance toolkit, and automatic low-oil shutdown further make it a valuable investment. This beast will give you power for years without any hiccup.
Verdict
With a build that is rated for decades, Westinghouse has developed perhaps the best cheap generator for home improvement. Just ignore the minor drawbacks of the noise and bulkiness, and you will get treated with its ability to supply clean and steady power for years. The plug-and-play and gasoline-powered 4-stroke engine with a long run time are the true highlights.
#3 - Top Quality: Honda EB5000 Industrial Generator
We don't think there is a need to introduce Honda. It's one of the leaders in the global automotive industry, so naturally, your bet on Honda for a portable power generator will always be rewarding.
Top Jobsite Generator: Honda EB5000 Industrial Generator
Generator Review
Honda is one of the best generator brands around, but don't go expecting what you expected in the above two models. This one is a beast, all right, but it's also heavy. It's very heavy at more than 250 pounds. But what you get from this heavyweight generator is more than 8 hours of steady power at full load. How crazy is that?
You can run an entire household with this kind of power (rated wattage is 4,500 W). Just a recoil to start up and some gasoline to fill the tank to its brim and you are good to go. This also makes it a decent generator for commercial work because it runs for more than 11 hours at 50% load.
The heaviness may make it less portable but it comes with two wheels and a strong handle, so moving around shouldn't be a worry. Still, we would recommend you to consider the other two models if weight is a critical parameter for you.
Best Jobsite Generators for Home Improvement – Medium Wattage (5,000 Watts to 8,000 Watts)
Check out these medium wattage generators for more power, versatility, and functionality. We pick Champion, DuroMax, and Generac models.
#4 - Top Pick: Champion 100891 7500-Watt Dual Fuel Generator
Another Champion generator in this guide, this time giving you more power to take care of both your household and project needs.
Top Generator For Worksite and Home Improvement: Champion 100891 7500-Watt Dual Fuel Generator
Generator Review
This is our top pick for three main reasons. One, it has an electric start that runs on a battery. Much better when you have two ways to start up a generator than just recoil which is often a hit-and-miss after prolonged user.
Two, it has something called Intelligauge which keeps the voltage and loads in check. This is good because then you don't have to worry about overload, frequency disturbance, or power output.
Lastly, it has a built-in surge protector called Volt Guard which takes care of surges and spikes, no matter how many devices you have connected to the generator.
But it goes without saying that if you maintain this workhorse the way it should be and connect devices one at a time, it will supply steady and clean power for years; even decades.
The decibel unit is slightly higher here, but that's something you should be prepared for when you opt for medium wattage generators. However, the real disadvantage is the limitation it brings with the electric start. If the battery dies, you will need propane fuel to use the recoil feature.
We feel this is slightly counter-productive for the generator, so opt for another model if this is critical for you.
#5 - Great Value: DuroMax XP8500E Gas Powered Portable Generator
DuroMax was founded in 2003 and is best known for its dual fuel generators. Yet, here we have its single-fuel 7,000-watt generator that's perfect for home use.
DuroMax XP8500E Gas Powered Portable Generator
Generator Review
Sometimes you need a strong and reliable power generator for emergencies at your home. This DuroMax gas generator is perfect for those times: simple yet effective, powerful yet economical, and will continue to chug for years if you take care of it (see the tip below).
The nearly 8-gallon tank is enough to give you up to 10 hours of run time at 50% load. Even if you connect all your household essentials, the DuroMax will work it and supply power intelligently to those that are running.
The surge wattage of 8,500 is really good here and will give enough start-up push to those heavyweight machines like the HVAC systems and microwave ovens. The surge arrest is another feature that makes this a wise purchase; a feature that is missing in the low wattage machines.
Nonetheless, the DuroMax XP8500E can also double up as the best gas generator for job sites as it has a decent wattage for both gasoline and propane. The run time of 8 hours (at 50%) is an industry best.
Pro Tip: If you are not going to use your generator for a long stretch (several months or years), drain the fuel and cover the machine to extend its lifespan.
#6 - Good Price: Generac 5939 GP5500 Portable Generator
Generac is an American power equipment manufacturer and is generally known for its low-cost products.
Generac 5939 GP5500 Portable Generator For Jobsite
Generator Review
The GP5500 Generac portable generator has a bevy of small features that make it attractive to both household users and construction contractors.
For instance, the hour meter is a great way to see the duration for which the motor ran. The support for circuit breaker is another feature that we love, which can help control overload and avoid surges. This is an essential feature because you don't want your appliances to fry if there is an intervention from any of your heavier machines.
While we don't recommend mixing power tools (meant for construction) and household appliances with this, it's also a good bet for job sites.
If you are on a budget and have moderate usage, this can be the affordable generator for construction sites that you are looking for. Sturdily built with never-flat wheels and a robust motor mechanism, it will work for you for years with low to no maintenance.
The only gripe we have is the quality of some of its parts. They don't seem sturdy enough, which confirms why it's so lightweight compared to the DuroMax and Champion models above. However, if you are on a shoestring budget and need a quality 5,000-watt generator, this one is a clear choice.
Affordable Generator For Jobsite: Generac 5939 GP5500 Portable Generator
Best Jobsite Professional Portable Generators – High Wattage (9,000 Watts to 12,000 Watts)
Four of the best high wattage power generators for both household and commercial applications.
#7 - Best Quality/Lowest Noise: Honda EB10000 Industrial Generator
Another brilliant product by Honda, this time the quietest generator for job sites.
Best Generator For Construction Sites: Honda EB10000 Industrial Generator
Generator Review
Sometimes you need industry-grade power and you are willing to shell out good money for the longterm to get that. We are talking upwards of 10,000 W and longevity of 20+ years. If that is the case, then the Honda EB10000 is the best quality generator for you.
It whirrs to supply clean power at a maximum of 10,000 W but its USP lies in how much noise it makes. Rated as 72 dBA, the noise here is almost equal to that of a vacuum cleaner.
If you have more than 50% load on the machine, the noise might increase. But then again, if you are using it as a household backup generator, you might want to keep it away and out in the open. The noise will not be a problem then.
What will matter then is the power and the reliability. Honda has put a lot of effort into building this – it's nearly 500 pounds (but has sturdy wheels and handles), runs on pure gasoline only, has multiple power AC/DC outlets, and is made of high-quality materials. Together, it promises to supply power for decades without letting you down in your daily power needs.
Whether it is powering an entire 3,000 square feet house and its appliances or running heavy-duty machinery and power tools. The EB10000 is a one-of-a-kind silent power generator in the class and cost range.
Do note that Honda EB10000 is the advanced version of the EB5000 we saw above. Equally strong, yet with more wattage and functionalities.
Pro Tip – If you are planning to use this as a power backup for your house, make sure you change the Ground-Fault Circuit Interrupters (GFCI) override settings. Refer to this service bulletin #20 (pdf) by Honda.
#8 - Heavy Duty: DuroMax XP15000EH Dual Fuel Portable Generator
Another DuroMax model, this time with a dual fuel motor.
Heavy Duty Generator For Construction Sites: DuroMax XP15000EH Dual Fuel Portable Generator
Generator Review
It is always better to be over-insured than under-insured. While that is something that an insurance agent will tell you, it is also true when you are looking to buy portable power generators. House or commercial requirement, this true beast by DuroMax should be a solution to all your outage worries.
With a surge wattage of 15,000 W, a 23 HP motor that runs on both gas and more efficient propane, and a top-drawer built (using on an all-metal frame), this top-rated whole house generator should be on top of your list.
Not just the high wattage rating, but the overall functionality of the XP15000EH makes it a great choice for home users and professionals.
What we really like in this model is the intuitive idle control where the motor automatically goes on low RPM mode to save fuel burning when the generator is connected to fewer devices. This type of efficiency control is rare in modern tools, and it one of the very reasons why we speak highly of DuroMax even against top players like Honda and Bosch.
If you are looking for a heavy-duty generator for construction sites or emergency home use, get this one.
#9 - Affordable Price: Rainier R12000DF Dual Fuel Portable Generator
It might feel like all heavy-duty, high-wattage generators are also heavy on your pocket. But not if you opt for one by Rainier Tents, one of the oldest power equipment manufacturing companies in Washington.
Rainier R12000DF Dual Fuel Portable Generator For Jobsite
Generator Review
This is an all-rounder powerful generator for job sites, with a peak wattage of 12,000, dual fuel options, a simple display and control panel, and a run time of 17 hours at 25% load. It's suitable for both household and commercial applications, having the ability to deliver steady power for all your devices – from air conditioners to sump pumps to kitchen appliances. You name it.
The noise rating of 72 dB is another feature that puts it close in competition with the Honda model we reviewed above. So, while Honda charges you a bomb for its superior built, Rainier gives you an equally enterprising generator at a steal.
We call it the all-rounder because there's no one feature that is missing here. From one-touch electric start to recoil option to long running time even on propane fuel – this one is a true workhorse for the modern job site.
Verdict
Do not compensate generator efficiency with a trade-off by going with cheaper brands. Instead, bring home this Rainier model and enjoy the best of both worlds – affordability and efficiency and functionality of a top-rated industrial power generator.
#10 - Best Budget: Pulsar G12KBN Heavy Duty Portable Dual Fuel Generator
Need to go further down with the price? Opt for this heavy-duty portable generator by Pulsar, a Canadian manufacturer.
Pulsar G12KBN Heavy Duty Portable Dual Fuel Generator
Generator Review
Affordability and efficiency go together in this low-cost power generator that can run both gas and LPG (propane). With one of the largest tanks that we have seen in any generators, the unique feature of this machine is its long running time of 12 hours at 50% load.
This is a great feature for both home and commercial applications as you can connect multiple devices to this high-rated machine and still achieve efficiency and optimum power output.
Electric start, big never-flat wheels, accessories like propane hose together make it a perfect choice as the best job site generator under $1,000.
Jobsite Generator FAQs
Answers to some of the most common questions about heavy-duty generators:
Conclusion
We hope that this short guide has helped you in your hunt for the best job site generator. While many factors are at play when you are looking for an ideal generator for your needs, we made sure that the ten models that we reviewed give you a wide variety of options. However, if you are still on the fence, here's what we recommend:
HONDA EB10000 Industrial Generator – Powerful, strong, and best job site portable generator

DuroMax XP15000EH Dual Fuel Portable Generator – Heavy-duty with very high wattage ratings

Champion 100891 7500-Watt Generator – Easy on the pocket yet highly reliable and efficient
Pick one of these if you are in a hurry. They will not let you down.