Gone are the days when you had to use a brush or roller when handling large painting jobs. Paint sprayers have reduced the time taken on large commercial painting jobs. They are powerful, reliable, versatile, and offer superior finishes.
Yet, finding the best commercial paint sprayer for professional quality finish can be overwhelming.
Top 7 Best Commercial Paint Sprayers: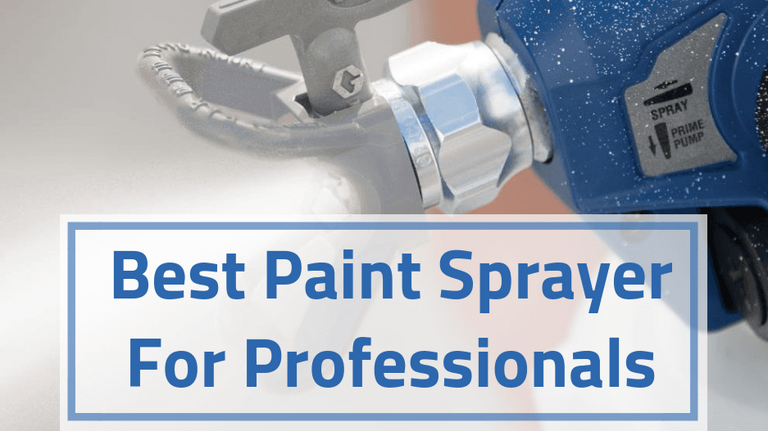 While most feature quality construction that offers reliable operation, some end up malfunctioning. Other models promise impressive results only to end up being a disappointment.
It's the reason we took our time to test different models across some of the notable brands.
With this in-depth guide, you should find the top tools for commercial spray painting. They come from respectable companies and pack extra features for convenience.
Best Commercial Paint Sprayer Reviews 2020
Here are the review of best commercial paint sprayers for professional remodelers, woodworkers, cabinetmakers and hobbyists.
1 - Fuji 2895-T75G Q5 Platinum - Best Commercial Paint Sprayer
Best Overall
Fuji 2895-T75G Q5 Platinum Quiet HVLP Spray System
Best Commercial Paint Sprayer For Professional Projects
The Fuji Q5 Platinum HVLP Sprayer boosts of power, speed, and versatility. Making it the ultimate system for fine-finishing painting projects. Combined with its quiet turbine, it stands as the best professional paint sprayer in our list.
Pros
Easy to disassemble allowing for effortless clean-up and maintenance
A powerful 5-Stage Turbine that produces 9.5PSI leading to less paint thinning and finer atomization
Sprays most of the paints without thinning
A patented side-mounted spray pattern control knob for extra convenience
The quietest turbine in the market
Cons
Some viscous paints will require thinning
Key Features
Fuji Q5 Platinum spray system sports a powerful 5-Stage turbine. This turbine has seen a lot of technological advancements. They include a heat dissipation chamber (HDC) and a patented noise reduction feature.
The noise reduction technology effectively reduces the motor operating sound by 50%. Such that when the sprayer is positioned at 28 feet away from you, it will operate at around 60 decibels (dB). That's the exact dB rating of a normal conversation.
On the side of the turbine case, you will find the heat dissipation chamber. With the 60 optimally designed air holes, all the heat build-up in the system is expelled out. Resulting in a cooler operating turbine that enhances its longevity. It also helps in getting rid of any loud hissing noise from a hot running motor.
On the other side, you will find the Variable Speed Control Dial. A powerful feature that allows for pressure adjustment on the motor. That's by adjusting the motor speed. This gives you more control over your painting job.
The Fuji Q5 Platinum sprayer comes with a 25 feet air hose that is very flexible for maneuverability. It includes an air control valve that adjusts the pressure going into the spray. This reduces overspray and bounce-back allowing you to get a smooth-touch finish.
What's more, the Professional Non-Bleed Spray Gun features a side-mounted Pattern Control Knob. A design that allows you to conveniently adjust the fan pattern size from small to large. It features a 1.3mm standard air cap set and a comfortable stay-cool handle. The fluid passages are made of stainless steel.
Verdict
The Fuji Q5 Platinum HVLP System is the ultimate professional-grade HVLP paint sprayer. In the package, you will get the 5-for-5 bonus accessory pack, making it the ideal HVLP sprayer for professional contractors and remodelers.
2- Fuji Q4 Quiet HVLP Commercial Paint Sprayer
The Fuji Q4 Platinum HVLP sprayer is yet another professional-grade system in the Fuji's Q PLATINUM™ Series. Just like the Fuji Q5, it features one of the quietest operating turbines on the market. It's a powerful professional paint sprayer that will prove to be versatile when put into use.
Pros
Its ease of disassembling allows for a hassle-free clean-up and maintenance
A powerful 4-Stage turbine that can spray most of the paints with little or no thinning
A durable turbine case with heat dissipation chamber for enhanced longevity
The fan pattern can be adjusted in three different orientations
Extra accessories in the package to kick-start your painting job
Cons
Lacks the variable motor speed control dial
A little bit pricey, going for just a few bucks below the more powerful Fuji Q5
Key Features
The Fuji Q4 Platinum sprayer features a powerful 4-Stage turbine. It's designed with the same noise reduction technology and a heat dissipation chamber in the Q5 model. Allowing it to run 50% quieter than the standard turbines.
The 4-Stage Turbine produces 9.0PSI. The extra power allows for its use with materials of different viscosity ranges. It is especially suitable for waterborne and solvent-based coatings, thanks to the center-mounted 600cc nylon gravity cup on the spray gun.
It has been equipped with the T75G professional-grade non-bleed spray gun. That features a side-mounted pattern control knob. The spray gun has been designed in such a way that air will only pass when the trigger is pulled. Thus reducing paint buildup on the tip of the nozzle.
Except for the 4-Stage turbine and variable speed control dial, most of the other features in the Q5 are there in the Q4-model. That's including the 25-feet Hi-Flex hose that features an air control valve and Quick-Connect mechanism.
Verdict
The Fuji Q4 Platinum sprayer has been engineered to help you achieve professional finish results. Whether you're looking for a powerful HVLP sprayer for your workshop or commercial property maintenance, it's the right system for you.
3 - Graco Ultra 395 Stand - Best Airless Commercial Paint Sprayer
Graco boosts of its undisputed history of designing powerful airless paint sprayers. The Graco Ultra 395 is a heavy-duty and powerful unit. Its reliability and performance make it stand out as the best professional airless paint sprayer today.
Pros
A very dependable and versatile airless sprayer
Very durable pump that will last twice the lifespan of competing models
Pump changing has made easy and can be effortlessly completed on the job site
Steel gears that extend its lifespan compared to competing models that use plastic gears
Equipped with a consistent spray fan
Cons
Its 55 pounds weights make it bulky
Key Features
Graco Ultra 395 features an enclosed 7/8 TEFC DC motor with a maximum output of 3,300PSI. The extra power gives it the ability to spray 0.54-gallons per minute. Allowing you to easily complete large painting jobs in less time. The enclosure protects the internal motor components
Our favorite feature is the fast and easy ProConnect pump replacement system. A design that allows you to fully replace the pump in less than a minute with just a screwdriver. With it, you don't have to worry about downtime during pump failure instances.
The Patented Endurance™ Pump design ensures that you will be using a reliable airless paint sprayer. Since the pump has been engineered to last twice as long as the pumps from other leading brands. It features long-life V-Max Blue packing and Chromex rod.
The pump has been equipped with a hardened stainless steel cylinder. Cleaning and debris clearing gets extra easier. Thanks for the QuikAccess™ intake valve. It also comes with an 'Easy Out Pump Filter' that helps in reducing tip clogs that can end up slowing you down.
The SmartControl 1.0 Pressure Control system is another feature that you will find handy. It delivers a consistent spray fan with a superior finish. And the great thing about the unit is its ability to spray from a 5-gallon bucket.
Verdict
The Graco Ultra 395 will help you apply a uniform layer of paint on all types of surface textures. This airless paint sprayer is designed for performance, durability, and versatility. Making it an excellent electric airless paint sprayer for contractors and property managers.
4 - Fuji 2804-T75G Mini-Mite 4 Platinum Paint Sprayer For Professionals
The Fuji Mini-Mite 4 Platinum spray system comes in a lightweight and portable design. It, however, lacks the noise-canceling technology in the Fuji Q Platinum series. Yet, the system still packs a powerful motor that enhances its versatility.
Pros
Easy to disassemble thus allowing for an effortless clean-up and maintenance
Operates quieter compared to other professional sprayer models
Works perfectly with materials of different viscosity ranges
Sprays in vertical, circle, and horizontal fan pattern orientations
Comes with a 2-year warranty on parts and labor
Cons
Some materials need thinning
The 600cc gravity nylon cup leaks after extended use
Key Features
Fuji Mini-Mite 4 Platinum features a 4-Stage motor turbine that produces 9.0PSI. The extra power makes it such a great tool for fine-finishing painting projects. And it's especially suitable for waterborne and solvent-based coatings.
The heat dissipation chamber is designed to ensure the system operates at cool temperatures. Just like the Q Platinum series, it encompasses an optimum surface area of 60 holes. They help in expelling the hot air out of the turbine case.
Moreover, it has been equipped with trademarked noise reduction covers. Of course, they aren't as efficient as the noise canceling technology in the Q Platinum series. But they help in muffling the operating level by removing direct sound paths.
The Fuji Mini-Mite 4 Platinum spray system comes with a professional grade T-75G non-bleed spray gun. It is fast and precise! You will find the side-mounted pattern control knob handy as you adjust the fan sizes from small to large.
Verdict
The Fuji Mini-Mite 4 Platinum HVLP sprayer is a powerful but portable system; making it the ideal professional paint sprayer for woodworkers, general contractors, and home remodelers.
5 - Graco 17G180 Magnum ProX19 Cart Commercial Paint Sprayer
Yet another airless paint sprayer by Graco. The Graco 17G180 Magnum ProX19 cart is a commercial grade paint sprayer. With it, property managers, contractors, and remodelers will complete large painting jobs faster and smarter.
Pros
A ProXChange feature that allows for fast and easy maintenance
The PushPrime feature offers fast and reliable start-up
An InstaClean Pump Filter that helps in keeping your unit in excellent condition
Puts out a maximum pressure of 3,000PSI that allows you to complete large projects in less time
A high-quality stainless steel piston pump that increases its reliability and lifespan
Cons
Initial setup has some learning curve
The unit is rather loud than the competition
Key Features
Graco 17G180 Magnum ProX19 has been built on a cart that enhances its maneuverability. It comes with a set of wheels that are attached on the sturdy aluminum frame. It's 38 pounds of weight makes it lighter and more portable.
The airless paint sprayer features a stronger 7/8 horsepower DC motor. It's powerful enough to handle almost any type of painting job. And you can use a longer extension cord and up to 150 feet of airless hose.
It comes equipped with the premium metal SG3 gun. With this spray gun, handling your painting project is rather hassle-free. The spray gun has a swivel for your hose. Such that you will experience few or no problems when using long hoses.
The adjustable pressure control knob lets you have control of your finish. This feature is located on the front of the unit for an ease-of-access. It packs different modes based on the coats in use and the type of application.
With the help of the Power Flush adapter, the clean-up process gets easier. All you need is to attach it on a standard garden hose. Likewise, cleaning a clogged tip has been reduced to a matter of turning the spray tip. Thanks to the 515 RAC IV SwitchTip!
Verdict
The Magnum ProX19 paint sprayer is the perfect system for serious commercial users. With the flexible suction tubes, using it from 1 and 5-gallon buckets is just effortless. And the long hose offers convenience when painting extra large surfaces.
6 - Wagner 0529050 Studio Pro - Best Budget Commercial Paint Sprayer
Wagner is a reputable brand in the world of spray painting. The WagnerStudio Pro HVLP Stationary Sprayer is a powerful system that will handle most materials. Unlike the HVLP systems in our professional paint sprayer reviews, this is much affordable!
Pros
Easy to set-up and use
The spray gun easily disassembles into 4 pieces for easy clean-up and maintenance
Sprays cabinet grade paint without thinning
Self-contained case for storage and transportation
Made of durable plastic that enhances its lifespan
Cons
A little bit bulkier
The storage case could have been better to offer a compartment for the spray guns.
Key Features
Wagner Studio Pro HVLP Stationary Sprayer features a simple working mechanism. A quality that helps you complete your projects faster. The paint flow settings and variable air power adjustments offer for a controlled painting job.
The package includes two different nozzles that give you all the flexibility you need in your projects. The iSpray nozzle offers impressive results when using unthinned paints on large surfaces. While the Control Finish nozzle is perfect for smooth finishes on small and medium projects.
With this sprayer, you have all the power that is needed to spray milk and chalk type paints. And since it's an HVLP system, you are in control, hence reducing overspray. You will notice that you end up using less paint compared to other paint sprayer models.
Verdict
The WagnerStudio Pro HVLP Stationary Sprayer is a powerful, versatile, and portable system. A design engineered with home remodelers and general contractors in mind. With it, you will achieve a professional-grade finish in both small and large painting jobs.
7 - Graco TC Pro - Best Commercial Paint Sprayer For Small Jobs
The Graco TC Pro Cordless handheld airless sprayer offers the fastest means to finish small painting jobs. It achieves a superior finish that is impressively smooth even without thinning. Making it a reliable unit for property maintenance pros, remodelers, and general contractors.
Pros
Its cordless design makes it the most portable sprayer in our list
Adjustable motor speed for pressure control from 500 to 2,000PSI
Equipped with the FlexLiner Bag system
Sprays in any direction, even upside down, with a superior finish
Supports up to a maximum tip size of 0.016-inch
Cons
Not recommended for use with lacquers
Doesn't feature an adjustable fan pattern control
Key Features
TC Pro is powered by the DeWALT 20-Volt MAX XR lithium-ion battery. Combined with its SmartTip technology, this tool will spray even unthinned paints. And you end up getting a superior finish with less pressure.
It combines ProControl II and SmartControl to deliver a consistent spray fan. The fact that there are no pressure fluctuations ensures that you're ending up with uniform finishes. And despite your hand speed, you'll end up with less overspray.
Our favorite feature in this tool is the ProConnect mechanism. Just like the other Graco commercial airless sprayers, this feature offers for an on-the-job pump replacement system. All you need is a screwdriver!
TC Pro has an annual recommendation of up to 50 gallons. Earning its place as the best professional airless paint sprayer in the handheld category. And with the Triax triple piston pump, you will get unmatched performance and reliable startup all the time.
Comes with TC Pro 514 Spray Tip, TC Pro Guard, and 2 rechargeable DeWALT 20V Li-Ion batteries. Plus a DEWALT 20V MAX battery charger. You also get pump preserver fluid, 4 reusable 32 oz FlexLiner bags, 60 mesh filter, and a storage bag.
Verdict
The Graco TC Pro cordless airless paint sprayer will spray paint and stain without thinning. And you end up with smooth, even coats that are perfect. With its recommended annual use of 50 gallons, it earns a place as the best handheld paint sprayer for professionals in our commercial paint sprayer reviews.
Conclusion
Whether you're a property manager, remodeler, or contractor, finding the best professional paint sprayer shouldn't be overwhelming. All you need is to get a powerful equipment that will give you professional-grade results.
With the above commercial paint sprayer reviews, it narrows down to hand picking your favorite equipment. They are the world's most popular and have been proven to be powerful, efficient, and very reliable.