With a paint sprayer, you can complete your painting jobs faster and efficiently. These tools are known for their power and versatility that achieve smooth and flawless finishes. Yet, we're made to believe that the best models ought to be pricey!
But you don't need to invest in an expensive professional-grade paint sprayer. More so when your painting needs are occasional, such needs like decorating your DIY creations, furniture, and periodic home renovation projects.
Top 5 Picks for Best Cheap Paint Sprayers: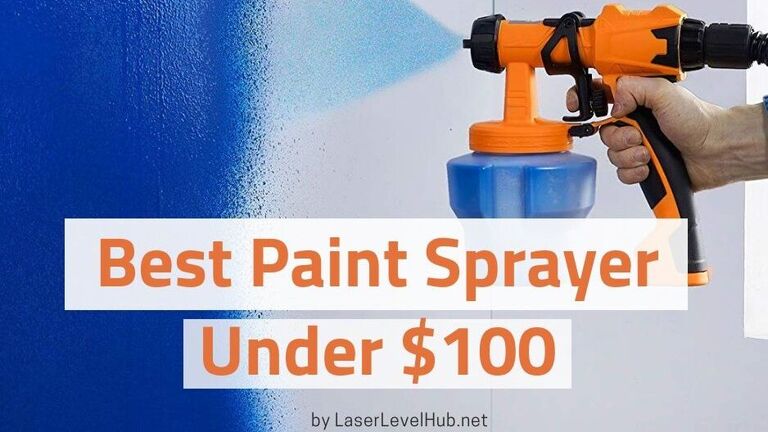 In this guide, we feature some of the best cheap paint sprayers under $100. They are powerful and durable tools that will handle your small home painting jobs with little efforts and less time.
Just a heads up, we always recommend wearing protective gears when using paint sprayers even when handling the smallest of projects.
Especially a mask not unless you would like to know the cost of a lung transplant. That's if it exists! Also, don't forget to cover your hair or end up spending a day in the shower.
Top 10 Best Cheap Paint Sprayer Reviews
1 - Wagner Power Painter Plus - Best Cheap Paint Sprayer For Pro
The Wagner Power Painter Plus stands as the best cheap airless paint sprayer in our roundup list. But despite its affordable pricing, it features a high-quality and durable design.
With it, homeowners and DIYers can effortlessly complete occasional painting jobs.
Key Features
Our favorite feature on this tool is Wagner's EZ Tilt flexible suction tube. A simple but very handy technology that allows for paint spraying at any angle.
When you tilt the unit while spraying, the suction tube will still stay in the paint. As a result, you can spray in any direction, including upside down, sideways, and vertically. It's a design that offers maximum mobility and versatility in your painting job.
Yet, things get even much better when you add the Optimus Dual Tip technology into the mix - another of its features that offer for superior paint coverage. With it, you can adjust the spray tip for either horizontal or vertical painting.
The dual tip technology is impressively useful for the average paint sprayer users. Since it creates a wide core spray pattern with less overspray, it becomes useful when spraying tight, awkward corners.
And if you painting job entails dynamic pattern changing, then this feature makes things absolutely easy for you.
TIP: Don't forget to give the tool a thorough cleaning after every painting job. This enhances its lifespan!
NOTE: Overspray is a key issue you'll want to watch when using this tool. Not just on the surface, but also the surrounding. We always recommend using a spray booth or tent for small painting jobs.
2 - Wagner Control Spray Double Duty - Best Cheap HVLP Paint Sprayer
Yet another powerful but affordable paint sprayer by Wagner. It's an easy-to-use HVLP sprayer that offers for maximum control.
As a result, you'll end up with less overspray; making it ideal for small home painting projects that need a professional coating.
Key Features
The Wagner Control Spray Double Duty HVLP paint sprayer has been equipped with a powerful 2-stage air turbine. It has been rated for both indoor and outdoor paint spraying. And it will work with both thin and viscous materials.
Its 3-position air cap allows for a quick spray pattern adjustment. By just twisting the cap you can spray horizontally, vertically, or in a round spray pattern. It gives you more control over your painting job.
Wagner has also included a variable-control trigger for pattern size adjustments. With this feature, you can change the patterns from 1/2 an inch to 10 inches. Wide patterns let you get the job done quickly.
With this Wagner HVLP sprayer, there is a lot you can accomplish around your home and workshop. Maybe add texture to your ceilings and walls. Varnish your furniture or doors. Or paint your crafts if you're a DIY enthusiast.
What's more, it comes with two material cups. A smaller 1-quart cup for smaller interior work and a 1.5 quart larger cup for large exterior projects.
This sprayer will work with both water based and oil based paints. It can spray up to 4.9 fluid ounces of material per minute.
TIP: Running some test projects will help you learn how to best control overspray.
3 - HomeRight Finish Max HVLP Paint Sprayer - Best Value
The HomeRight Finish Max HVLP paint sprayer comes in a portable design that is easy-to-use; making it the ideal tool for those who have never used a paint sprayer before.
And you will absolutely love the finish when using this tool thanks to the added control features that let you have control over the painting project.
Key Features
In the upper part of the casing, you will notice the 400W motor powering the paint sprayer. It's powerful enough to work with materials of different viscosity. The fact that it's a High Volume Low Pressure (HVLP) sprayer means you will end up with less overspray.
HomeRight has included a viscosity cup as part of the accessories that come with this tool. Since it doesn't work well with dense materials like latex, the plastic cup will help you determine the optimal viscosity of the material. There is also a sheet with certain time values in the user manual.
The adjustable nozzle with a 2.0mm spray tip lets you control the spray pattern. With just a simple nozzle rotation, you can spray vertically, horizontally, and in a round pattern. The inside parts of the nozzle are brass-made. Unlike plastic, brass isn't prone to wear, hence enhancing its durability.
Our favorite feature is the flow control knob located on the trigger. By pulling the trigger further, you put more power on the motor.
As a result, you deliver more material on the surface. It simply regulates the air flow (pressure) through a simple working mechanism. The spray pattern can be changed from 1 inch to 6 inches wide.
4 - REXBETI Ultimate-750 Paint Sprayer - Best Paint Sprayer Under $60
REXBETI is a professional brand, best known for manufacturing top-notch quality tools.
The REXBETI Ultimate-750 Paint Sprayer is an affordable paint sprayer but still maintains their quality standards. Being an HVLP sprayer, you'll have more control over the painting job.
Key Features
REXBETI Ultimate-750 Paint Sprayer comes with a powerful 500W motor. With the high power, you will get smooth and superior coats even when using denser materials.
It has been equipped with 3-size nozzles. A 3.0mm nozzle for denser materials like latex, milk type, and chalk type. And a 2.0mm and 2.5mm nozzles for thin paints like varnish and sealers.
With the adjustable flow control knob, you can easily control the paint output. Wider material flow is ideal when you're looking to get large surface jobs done quicker. While a narrower flow is perfect for corners and edges.
5 - Wagner Power Tex - Best Cheap Paint Sprayer For Texture Finish
Wagner Power Tex Texture sprayer was designed to handle small and medium texturing projects. It's actually the best budget paint sprayer for spraying texture on ceilings and walls.
Whether you're a homeowner or handyman, you'll find it very easy to use and maintain.
Key Features
The Wagner PowerTex Texture sprayer features an inbuilt air turbine with a maximum pressure of 2 PSI. Thus eliminating the need for a separate air compressor. It sprays at 0.2 gallons per minute for optimal coverage.
This handheld sprayer has been equipped with 3 spray nozzles, small, medium, and large. They allow you to spray aggregated and non-aggregated materials in three texture appeals. These are the popcorn, knockdown, and orange peel patterns.
It comes with a 1-gallon hopper. The container adjusts in either of its two positions for ceiling and wall spraying. You don't need to invest in an adapter! And it holds a sizable amount of material that cuts out the need for frequent refilling.
To ensure that you have control over the project, Wagner has included a variable-flow trigger. With it, regulating the material flow has been made easier. You will end up with less overspray. When you get to corners and edges, narrow/small material flow works perfectly.
TIP: Covering furniture and rugs ensures that the paint mist doesn't fall on them. Don't forget to also cover your hair and wear a mask when using this electric texture paint sprayer!
6 - VonHaus Paint Gun Electric Cheap HVLP Spray Gun
When you're on a budget but looking for a fast and flawless paint application, you go for this inexpensive paint sprayer. The VonHaus HVLP spray gun is such a budget sprayer designed for homeowners and handymen/women.
Key Features
VonHaus HVLP spray gun is a 6.5Amp Electric Paint Station with a 2.5mm nozzle; giving it extra power for quick and accurate paint application with just a single coat.
It has been equipped with a large 35-Oz paint container that reduces the need for frequent refilling.
Just like most paint sprayers on the list, it comes with an adjustable flow rate. And with this unit, the flow rate adjustment has been made easy. All you need to do is simply twist the nozzle. To get a gentle coating, you only need to reduce the flow volume.
On top, it also features an adjustable spray pattern. This is achieved by rotating the spray pattern adjuster to either nummular, horizontal, or vertical settings. Combined with the adjustable flow rate, you end up with less overspray.
VonHaus has also added some extra accessories in the package. They include a pipe cleaner, shoulder strap, viscosity measuring cup, and nozzle cleaning needle.
The sprayer works best with materials of less viscosity like stains, varnishes, and primers.
7 - Wagner HVLP Control Spray - Best Cheap Stain and Paint Sprayer
There is a reason why Wagner has dominated our roundup list of the best paint sprayers under $100. Even in the budget end of the price scale, Wagner still manufactures high-quality paint sprayers that are powerful and versatile.
This model works best when spraying thin materials like wood sealers, varnish, and deck stain.
Key Features
The Wagner HVLP Control Spray Sprayer packs the two features that have dominated most of the paint sprayers in this list. That's a variable paint flow rate and pattern adjustment.
The pattern adjustment allows you to spray narrow round, vertical, and horizontal. While the variable flow rate lets you control the material flow volume. This gives you control over your project.
This sprayer will work best with non-viscous materials. Like finish-grade enamel, varnishes, urethane, sealers, and stains. The Control Finish nozzle offers impressive glass-smooth coating on wooden surfaces.
TIP: Due to the paint mist created by this sprayer, we recommend using a spray booth or tent.
8 - NEU MASTER N3140 Electric HVLP Spray Gun - Best Under $50
The Neu Master HVLP paint sprayer comes in a design that's almost similar to that of the VonHaus HVLP sprayer. That's including the flexible hose and a shoulder strap.
This multi-purpose tool is ideal for crafts and small home painting projects.
Key Features
The Neu Master paint gun features a powerful 600W motor with an inbuilt turbo-fan. The extra power provides a strong airflow. You end up with an even paint coating with superior coverage.
Our favorite features are the adjustable flow rate control knob and the 3-spray pattern options. You can set the spray pattern to either horizontal, vertical, or diagonal. With the flow-rate control knob, you will easily achieve smooth and even paint coverage with less overspray.
This tool is especially ideal for home usage. It works best on wooden toys, fences, shutters, bicycles, chairs, and tables.
Denser materials will, however, need some thinning. But it works best with wood preservatives, mordants, primers, varnish, and two-components paints. As well as enamels like motor-vehicle enamels, clear enamels, and water-dilutable enamel paints.
9 - Tacklife SGP15AC Cheap Paint Sprayer For DIYers
The Tacklife HVLP paint sprayer comes with some amazing features and accessories despite its budget price. The tool is made up of durable ABS plastic, a quality that enhances its lifespan.
It's the ideal paint sprayer for small jobs around your home.
Key Features
Tacklife has equipped this sprayer with a decent 400W motor power. It's powerful enough to handle most materials while achieving an even paint coverage with a flawless finish. It comes with a large 900ml container that reduces refilling rates.
The tool comes with 4 nozzles that reinforce its versatility. You get three standard nozzles of 2.0mm, 2.5mm, and 3.0mm. Plus a copper nozzle of size 1.0mm. The copper nozzle is perfect for small crafts that need a fine finishing.
With this sprayer, you can adjust the spray into three different patterns. That's horizontal, vertical, and diagonal. Coupled up with the adjustable flow rate control knob, you get total control over your painting project.
The Tacklife HVLP handheld paint sprayer comes as a complete package with extra accessories. They include the 4 spray nozzles, a cleaning brush, a funnel, and a nozzle cleaning needle.
10 - VonHaus HVLP Spray Gun - Best Cheap Paint Sprayer Under $40
Yet another VonHaus HVLP electric paint spray gun in the list. This hand-held paint sprayer features 3-spray patterns and a flow control knob. It comes in an easy to clean design that makes it ideal for DIYers and homeowners.
Key Features
VonHaus has included a simple flow adjustment knob in this paint sprayer. You can choose a gentler or concentrated paint flow. The latter lets you complete painting large surfaces faster and flawlessly. A gentle flow is ideal for edges, corners, and crafts.
When running on maximum, it achieves a flow rate of 700ml per minute. The large 35-Oz container minimizes the need for frequent refills.
Its package includes a viscosity measuring cup, nozzle cleaning needle, and pipe cleaner.
This VonHaus paint sprayer also features adjustable 3-spray patterns. That includes diagonal, horizontal, and vertical. When you add the flow control into the mix, you can easily control overspray since you have more control over the painting job.
Conclusion
Just because it's an affordable paint sprayer doesn't mean you will get sloppy painting job results. The above roundup list is proof that budget paint sprayers pack all the features needed to complete small painting jobs at home.
In the list, we have featured Wagner Power Painter Plus - the best cheap airless paint sprayer. It's powerful, versatile, and durable. You can also go with an HVLP alternative by picking one of the other tools. They are great for controlled spraying with less overspray.