If you love camping, you know that a small portable generator is essential in a range of outdoor scenes. You can use them for powering all outdoor lights, for heating or cooling systems in a tent, and even for creating a breathtaking soundtrack to a trip in nature.
Best Small Portable Generators in 2023:
However, choosing the best small generator gives headaches to even the most competent outdoor specialists. That's why we have done a full review of some of the best small, compact and lightweight generators available at the moment.
Best Small, Compact, Lightweight Portable Generators to Buy

Best Overall

Westinghouse iGen2200

Can operate for up to 12 hours at 25% load
It has protectively covered outlets against debris and moisture
It is easy to carry and user-friendly

Read My Review

Best Quality

Honda EU1000i

It is energy efficient
Inverter – suitable for smartphones & laptops
Advanced Honda Eco-Throttle system for regulating fuel ingesting

Read My Review

Best Quiet

Jackery Explorer 240

It has a small size, but large capacity
Can be paired with solar panel
Lithium battery that suggests higher discharge capability and long life

Read My Review

Easy to Use

Generac GP2200i

Low-oil level closure which protects engine from sudden damage
Can work for up to 10.75 hours
LED Indicators alert when low on oil, ready or overloaded

Read My Review

Great Value

WEN 56225i

Parallel capable to increase power output
Long lifespan
Purchased and sold in all 50 states, including California

Read My Review

Best For RV

Champion 100623 3400-Watt

RV Ready, electric start
Ultra silent operation
Suitable for sensitive electronics

Read My Review

Best Budget

Rockpals 250-Watt

Lightweight but sturdy device
Pure Sine Wave technology
3 ways to recharge

Read My Review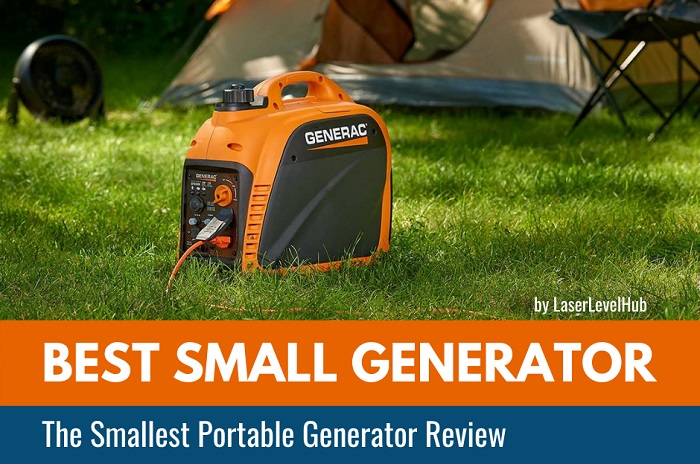 Best Small Generator - Smallest Portable Generator Reviews
Best Small Generator Reviews 2023
In this section, we are going to evaluate and review some of the top-rated small generators you can find on the market, and hopefully, aid you in your decision.
But before you buy a small portable generator, you need to determine where and how you're going to use it. With that in mind, here are 7 magnificent generators for your consideration.
#1 - Westinghouse iGen2200: Best Small Generator For Home Use
Westinghouse iGen2200: Best Small Generator For Home Use
It is impossible to talk about the best small generators without pointing out a Westinghouse inverter generator. The name Westinghouse speaks for itself. It is one of the best generator manufacturers, and it offers various models that can fit everyone's needs.
The minute you power up the Westinghouse iGen2200, you will find out that one of its best features is that it is very silent. It produces about 52 dB of noise, which sounds like a small gentle humbling car engine.
This compact generator weighs something over 46 lbs so you can carry this generator for short distances in one hand only.
Another highlight of this device is its control panel that comes with 2 x multi-purpose 120V outlets. This generator can charge various portable devices and small house robots like grills, juicers, coffee makers, fans, etc.
Although it is one of the most lightweight portable generators, its panel also has an Efficiency Mode button and an overload reset button. Efficiency mode reduces fuel waste and enables it to operate longer.
Another exceptional feature of iGen2200 is the Fuel control switch. The control provides better control over the generator whose engine operates with 1800 running watts and 2200 starting watts.
We can proudly say that this is one of the top-rated generators available on the market. If you wish for extra power, this small inverter generator may be the best choice for you.
#2 - Honda EU1000i: Best Small Inverter Generator
Honda EU1000i: Best Small Inverter Generator
Honda is a synonym for superiority. They have an enormous experience of designing the best quality generators.
EU1000is has a patented Honda Eco-Throttle system. This innovative mechanism spontaneously regulates the generator's fuel ingesting based on the existing output. This system is economical and will save you money in the long term. We need to mention that this little generator can work for up to eight hours on a ½ gallon of gas. So it is a fuel-efficient small generator.
Another outstanding benefit that this model offers is its parallel connection ports. This feature helps you connect more than one generator. It means that you are not limited to its 1000W power output. By using Honda 1000i, you can increase your electrical production.
This model is an ideal choice for keeping your sound systems, computers, TV, and other small devices powered up. EU1000i is one of the smallest Honda generators and can power up only the elementary home eases when camping. So it is not suitable for air conditioners and refrigeration equipment.
#3 - Jackery Explorer 240: Best Small Quiet Generator For Outdoors
Jackery Explorer 240 Solar Generator: Best Small Quiet Portable Generator
We present you with the quietest small generator called Jackery Explorer 240 generator. It uses a lithium-ion battery. Using this type of battery means higher discharge capability, long life, zero maintenance, and lightweight.
This portable solar generator for camping is easy to put in a cottage, tiny home, car, van, or bus. You can plug and charge almost anything into this portable generator as it comes with 110 AC output, 22 v DC, and 2 USB.
If you buy this small solar generator, you can notice the LCD status screen, which is a very handy feature. This screen shows precisely the watts and displays the % of battery life left.
Jackery Explorer 240 is more than just a generator that you can carry in your car. This item provides enough energy to last while you are outside your home, but it needs up to eight hours to charge completely.
We need to point out that you can charge your mobile devices 16 times before the battery runs dry. This is a good cheap portable generator which useful for people who enjoy camping and for those who live in places that often have storms.
The Jackery Explorer 240 Power Station can also be paired with a solar panel but you need to buy it separately. This solar panel helps you use the generator after ten hours of full sun.
#4 - Generac GP2200i: Best Small Affordable Generator
Generac GP2200i Portable Inverter Generator
Generac is one of the most well-known generator companies on the market which produces generators mainly for camping boats and portable backup energy sources. Generac GP2200i is the smallest Generac generator and is one of the best inverter generators the company offers.
One of the best things about the Generac GP2200i generator is its long service life. Even when half full, it can work over 7 hours. That is a fantastic rating for a generator of this size. It is partly thanks to its larger fuel tank, which can hold 1.2 liters of gas. That is slightly more than the capacity of most 2000 watt inverter generators.
Another factor that allows this generator to run a little longer is the Eco mode. You can enable this option by simply pressing the button. It helps the generator to improve engine performance while minimizing fuel consumption.
One of the best cheap generators for camping, the GP2200i inverter generator allows enthusiasts to have a portable power supply solution designed for a range of outdoor activities.
From outdoor weekends to outdoor gatherings, this model provides the required steady power without disturbing neighbors or nearby wildlife.
Whether you are a camping professional or barely want to enhance your camping experience, the Generac GP2200i won't disappoint you.
#5 - WEN 56225i 2250-Watt: Small Gas Portable Generator For Camping
WEN 56225i 2250-Watt: Small Gas Portable Generator For Camping
The WEN 56225i Inverter Generator offers clean energy without making all that noise that other generators make. It has a 79.7cc engine and operates at 53 dB. This small gas generator produces 1800 running watts and 2250 starting watts.
It is suitable for tablets, monitors, smartphones, laptops, and other mobile devices and offers more than 6 hours of operating time.
The popular WEN 56225i Inverter Generator comes with a fuel shutoff. It allows this small portable generator to operate with the fuel that is left in its carburetor before it spontaneously stops working. This feature helps the device fight the blockages and build-up that occur because of inactive fuel stored in the device's carburetor. In addition, this feature prolongs the generator's lifespan at the same time.
#6 - Champion 100263 Dual Fuel: Best Small Generator For RV
Champion 3400-Watt Dual Fuel: Best Small Generator For RV
The Champion 3400-Watt Portable Inverter Generator ideally combines flexibility and suitability.
This modern dual-fuel generator can operate on propane or gasoline. You can easily change fuels with a fast turn of the fuel selector button. When the device uses gasoline, its 192cc motor produces 3100 running watts and 3400 starting watts. Using gasoline, the generator can run for eight hours at 25 percent load.
On the other hand, the generator's engine can provide 2790 running watts and 3060 starting watts if you use it with propane.
Champion's Inverter Technology uses innovative Economy Mode. It can decrease the electrical load. At the same time, it enables quieter operation, lower fuel expenses, and prolonged motor life. This small RV generator also comes equipped with Cold Start Technology, which guarantees an immediate start when the weather is cold.
This is one of the best portable dual fuel generators which operates at 59 dBA. So, it does not make a lot of noise.
The full package comes with a dual USB adapter, two 120V 20A household outlets, and 120V 30A RV. Additionally, it has a propane hose with a fixed regulator.
Champion 100263 3400-Watt generator has a 3-year limited warranty. Additionally, it comes with FREE lifetime technical support.
#7 - Rockpals 250W: Best Small Portable Generator Under $200
Rockpals 250-Watt Small Portable Solar Generator
Rockpals 250W is the smallest portable generator in this list which is ideal for both indoor and outdoor activities such as fishing, hunting, and camping. At the same time, this small solar generator provides an alternative backup energy supply during electricity cuts.
Rockpals RP250w comes equipped with two ways to power: 12V D plug and 110V AC Plug. It is a solar portable generator with MPPT technology that enables up to 40% quicker charge times than other solar panel models. It can be fully recharged in 9-10 hours when it is sunny outside.
It is the best compact generator for charging radios, laptops, smartphones, and other similar smart devices. It has 4 x 12V DC for car run devices under 60W, such as air fan, car refrigerator, car vacuum, etc. It also has 2* 5v USB ports for cameras, iPods, smartphones, etc. Additionally, the full package comes equipped with a car charger and a 110V wall adapter.
If you are looking for a soundless, gas-free generator, thus Rockpals 250W is the model you need.
Conclusion
You truly can't make a mistake with any of the best small generators above. It does not matter if you are looking for something that is ideal for emergency cases or you are looking for something that you can carry with you on outdoor camping trips, any of these small portable generators will satisfy your needs.
To help you choose the smallest portable generator, we have pointed out the varied array of options. Though, if you still cannot decide on which generator to purchase, here are three of our favorites:
Best Overall: Westinghouse iGen2200
One of the top-rated inverter generators on the market. This device generates 1800 running watts and 2200 starting watts. It is pretty quiet and comes with a three-year warranty.
Best Quality: Honda EU1000i
One of the most long-lasting and powerful generator brands on the market. This small Honda inverter generator can operate a variety of devices, from lights to TV and computers. It is hence impeccably suited for outdoor activities like camping and hiking.
The Quietest: Jackery Explorer 240
This lightweight solar generator comes equipped with a lithium-ion battery. It does not need gasoline or fuel. It has a solid handle, and you can carry it easily with you wherever you go.
Pick one of these generators and you won't be worried about a power outage anymore.