Good quality and long-lasting pressure washers don't come cheap. This is why a large group of Americans still prefer to rent them out or use the services of a pressure washing business.
While some professionals choose to start a power washing business because of their skills (in handling power tools) and passion, there is good money to be made in it.
For example, the average hourly cost of getting a car pressure-washed in a major state in America is upwards of $70. And this does not include auxiliary services such as renting out and doorstep cleaning.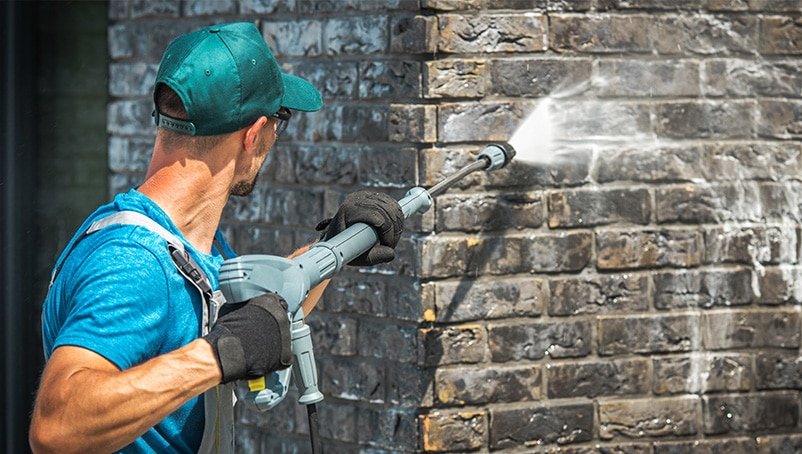 How to Start a Successful Pressure Washing Business
If you have been toying with the idea of starting up, all we are saying is that it might be a terrific idea. The industry is a burgeoning one, it's a skill-based business, and the capital requirement is heavy only at the beginning.
But how do you get started on a pressure washing business that's poised for success? Here's a quick guide.
What is a Pressure Washing Business?
When you run a pressure washing business, you basically provide cleaning services to customers. This may include but is not limited to power-washing cars and trucks, house exteriors, patios and walls, auto garages, commercial establishments, shopping malls, and parking lots.
Anything that a regular garden hose (with its PSI of 40) cannot wash off will fall in your territory. And in a dusty and industrials-heavy country like America, there is no shortfall of such opportunities.
In other words, as a pressure washing company, you will invest in high-quality pressure washers for small businesses and deploy for a service fee. There is more to it than just buying electric washers, which we have discussed in the sections below.
Pressure Washing Business - Pros and Cons
Like any other business, this one also involves some ups and downs.
Pros
Easy to start with major capital requirements only at the start

No one-size-fits-all – can start with a single pressure washer

High profits based on services provided

No strict regulations – easy to procure licenses

Single-person business possible (no need for employees at the start)
Cons
Considerable capital requirement at the start

Experience- and skill-based business

Customer acquisition may be a challenge
How Much Can a Power Washing Businessperson Earn?
Industry hourly average is upwards of $70 in major states in the USA. However, this is dependent on the neighborhood, your city, and your state. In the business, you are free to set your own price as long as it's high enough for profits and low enough to compete with other power washing businesses in your neighborhood.
The daily average for a small-scale pressure washing business in the United States can be in the range of $300 to $500.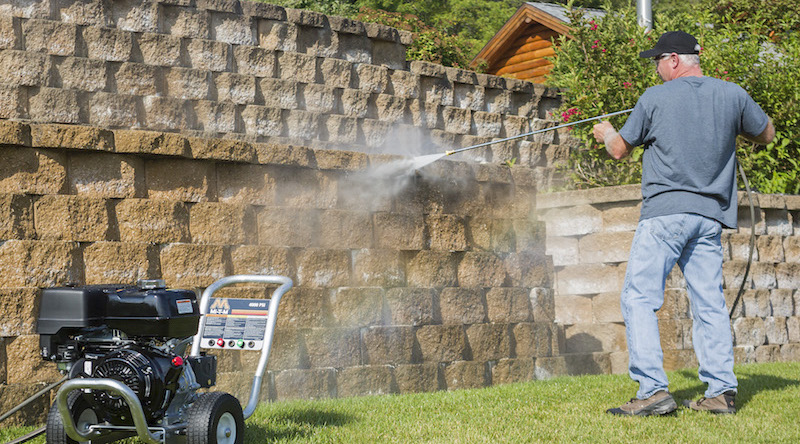 How Much Can a Power Washing Businessperson Earn?
6 Steps to Start a Successful Pressure Washing Business
A commercial cleaning business means you need to take care of a lot of things before you start up. In this short guide, we will take you through the six essential steps of setting up a pressure washing business. They involve market research and scope, skilling, investment, paperwork, business plan, and marketing.
Step 1 - Specify Your Service Offering Using Market Research
The first step of starting up a pressure washing business is to finalize your service offering. What scale of business are you planning to start? What do you plan to offer – doorstep cleaning or set up a shop? How many other pressure washing companies operate in the vicinity? Is it worth setting up?
Answers to these questions will help you scope your business. Do the required market and competitor research to find the answers. For example, if you are in Denver, Colorado, and want to set up a washing shop, you should look at other similar businesses in the area.
Is there scope for one more shop?
If so, how many customers can you acquire? While finding these out, also look at how often you can expect customers? Are there many muddy roads around? What about the weather conditions that may contribute to mildew and dust in people's homes?
For extended research on setting up a business in the US, go to the SBA website.
Step 2 - Build Your Pressure Washing Skills
Build Your Pressure Washing Skills
This is key if you don't have much experience in pressure washing before. Learning how to power wash, learning about your tools, and knowing the tips and tricks to get 100% cleaned surfaces will set you up for success.
This is why, in most cases, professionals with prior experience opt to provide commercial pressure washing services. They can use their credentials in customer acquisition and make it a USP of their business.
However, if you are new to the power washing world, you can still start a business. Just get a pressure washer and learn how to operate it. You may refer to our buying guides.
Tips to Learn to Power Wash
As noted earlier, professionals who already have power washing skills have it easy. Laymen, on the other hand, will need some skilling via how-to videos and some reading-up. Here are some tips while you're at it:
Borrow a pressure from a friend and use it across applications. (Or, ironically, rent one for a few days)

Read up about the mistakes that one can make

Know how to get rid of certain types of dirt (oily surface, sap, algae, etc.)

Intern at another business in a neighboring town or city
You don't have to be a pro to get started with a business. You can also hire a professional power washer via Craigslist or any other classifieds and strengthen your business at an extra cost.
Step 3 – Invest in Pressure Cleaning Equipment
What do I need to start a pressure washing business?
This is a common question. And that is where your spending starts.
To even start a basic residential pressure washing business, you will need the following:
Pressure washing machines

Pressure washing gears and accessories

Washing solutions and chemicals

Safety equipment like goggles and gloves
Out of these, the most important one is of course a commercial pressure washer. This is also where your maximum focus and capital should go. It makes sense to invest in a gas-powered heavy-duty machine manufactured by a quality brand such as Champion or Simpson.
Take into consideration the PSI settings (3,000 to 5,000), engine quality, and additional features that will make your job easier. One unit will cost you anywhere between $1,000 and $3,000.
If you are in doubt, use our buying guide to find the best pressure washer for starting a business. It may be tempting to spend on special devices like surface cleaners, fancy nozzles, and such.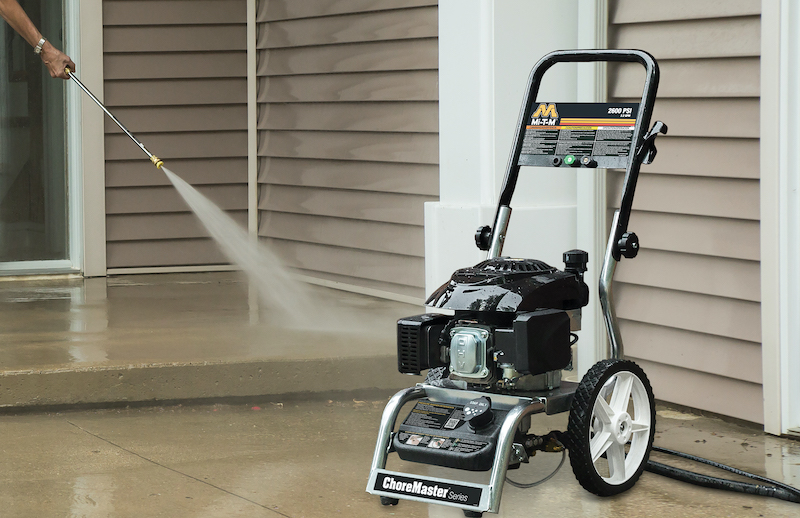 Pressure Washing Guide: How To Start Your Business
But we don't recommend splurging right at the start. When you are starting up, just focus on the essentials. For a total startup cost of a pressure washing business, consider the range of $4,000 to $10,000.
Items like a truck (to carry the washer to a customer's house), uniforms (for employees), and accounting software (for bookkeeping and database creation) can be secondary. These are some areas where you can save on costs if you are planning to start on a shoestring budget.
Remember that it's possible to start this business with even a small capital. On the other hand, a well-maintained truck (or a pressure washing work truck) with branding and order information can double up as a marketing strategy.
In this digital age, another important expense is of creating and maintaining a business. If you are only going to depend on online orders, having an updated website and presence across avenues like Google My Business will help.
Step 4 – Start Paperwork and Get Permissions
Another critical part of getting started is doing all the paperwork and getting all the permissions. This includes business permits, contractor licenses, sales tax registration, bond, environmental permit, and insurance. The cost for these can go up to $500, along with recurring costs for insurance and permit renewals. The documents needed and the cost will depend on your state.
Description of each requirement:
Business Permit – Registering your commercial power washing business with the state government

Contractor License – Local permit to run the establishment

Sales Tax Registration – Registering with the IRS

Bond (optional) – Payment of a deposit to procure the permit/license

Environmental Permit – Permission to drain used water (in some states)

Insurance – Includes liability, workers' compensation, and equipment insurance
Pro Tip – You can get started on this step simultaneously with the above steps as getting permissions can take time.
Moreover, there is also a need to keep an account of your expenses. Start creating a balance sheet from this point onwards so that you can claim income tax benefits later.
A Note on Pressure Washing Organizations in the United States
There are three associations related to the pressure washing business in America. They are:
UAMCC – United Association of Mobile Contract Cleaners

PWNA – Power Washers of North America

PWRA – Pressuring Washing Resource Association
Joining them is optional but if you believe in the power of networking, it will be a good call. However, joining an organization comes with its own set of advantages and disadvantages (such as regulation).
Step 5 – Set Up Your Business Plan and Initiate Marketing
Following up to step 1 and gaining more insights after steps 2 through 4, you can possibly finalize your scope. You can either set up a full-fledged shop or a build virtual contract business where you store the washers at home and take online orders. Your financial ability will also dictate the choice.
Having a business plan is also important so that you don't lose your way through the course. Setting your rules and a policy will also matter so that you can limit your business expenses and keep the business afloat.
For example, you need to figure out your refund policy. What happens if a customer is unhappy with your service and requests a refund? You should have a document ready (and published on your website).
The website is also where the marketing starts. If you are only serving your neighborhood, you can also start with flyers and local partnerships.
For example, if you can partner with a gas station or the local supermarket chain, you may succeed in bouncing some potential customers your way. Word of mouth and a decent online presence will further set you up for success.
When you start up, there is no need to think or spend a lot on marketing and advertising. Just worry about acquiring your first 50 customers in the first few months. This will help you plan better in the following months.
Marketing Tips for Power Washing Businesses
Provide introductory free offers and discounts

Use numbers in your marketing material (e.g.: increase your house's value by $5,000 with spring cleaning)

Use examples
Step 6 – Setting Your Service Fee
The last and the most important step involves setting your fee. Generally, the cost can be either hourly or fixed for a specific task. Here are a few examples:
Exterior siding of a home – $200 onwards

Driveway – $100

Deck/Patio – $150 onwards

Vehicle – $100 onwards
Note that these prices vary from state to state. If you are hoping to set competitive prices, research what other players are quoting. For hourly rates, inform your customers upfront and give them a rough idea about the time a certain task will take to complete.
Do note that steps 5 and 6 are interrelated. If you are competitive, you can even market your pressure washing business as the cheapest in the neighborhood. But don't overdo it so that no one calls you.
Starting a Pressure Washing Business
The key to starting the best pressure washing service is planning. The more and detailed your plan is, the equally successful and strong your business will be.
Knowing what you are getting into and having some clout in your neighborhood can help. If you know a lot of people in your neighborhood and have lived there most of your life, people will naturally believe in you. Therefore, they will believe in your enterprise too.
Remember that not everyone knows how to start their own pressure washing business. You don't have to be a businessperson to get started as we just saw in this guide. Consider the steps, learn the power wash, and keep your finances in check – and you will be set for success.
In any case, this article and our buying guides will help you through the course so that you don't get any surprises. Ask around and seek opinions from your friends and relatives while you get started. They will shower you with the much-needed motivation and confidence. We wish you all the best.
One final thing before you scramble: give your pressure washing business a solid name. Contrary to popular opinion, we believe that there's a lot in a name.