Talk about home building, renovation, and maintenance and you see "expense and challenges". You have all sorts of ideas to style your home the way you want it. But the potential challenges pull you down.
Not if you consider owning a tile saw. A professional tile cutting machine that both fits in your budget and comes in handy every time you get enthusiastic about a renovation. You don't have to spend a fortune on it nor is it a recurring expense. Invest in the best tile saw for homeowners once and you can reap the benefits for years.
Best Wet Tile Saws in 2023:
So, here's a look at some of the best models available to buy online. These are a mix of entry-level of intermediate models, easy to use and maintain, and priced modestly. We will first list them down so that you can take a quick glance, followed by detailed tile saw reviews for an in-depth look.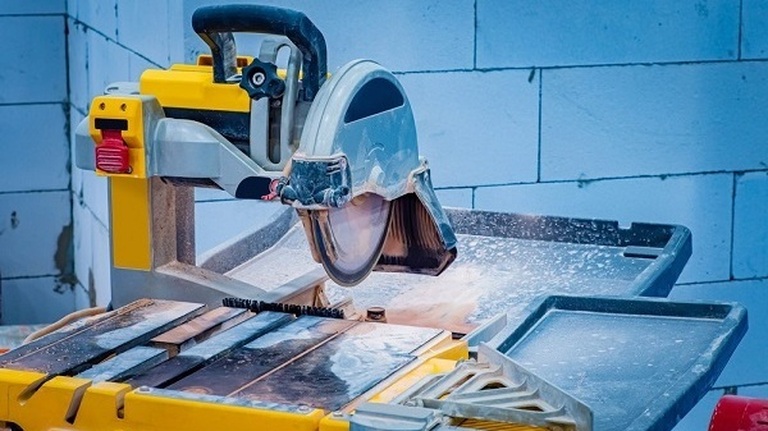 Best Tile Saw Reviews
Best Tile Saws For The Money - Reviews of 2023
Here are detailed looks at all the eight tile saws, their pros and cons, and specifications. If you have already selected your choice, check out its review to know more.
#1 - SKIL 3540-02 7-Inch Wet Tile Saw
SKIL Power Tools is a reliable household brand in America. People who work on DIY home remodeling projects depend on SKIL because of its affordability, efficiency, and solid customer support. This cheap wet tile saw is a perfect example of its pioneering quality.
Best Budget: SKIL 3540-02 7-Inch Wet Tile Saw
Pros
Clean, straight cuts

Water reservoir in the bottom to prevent spills and splashes

Stainless steel top that is corrosion-resistant

Miter gauge for easy miter cuts
Cons
Stock blade is of inferior quality
Tile Saw Review
At first look, this SKIL tile saw looks like a vegetable grinder. It's so small and compact and handy (weighing just about 11 pounds) that you would doubt its tile cutting qualities. That is where SKIL will actually stun you.
Although meant for small tiles because of its 7-inch blade diameter and small work area, it can tackle even large-format tiles, glasses, marbles, stones, quartzes, and bricks. Throw any hard material at it and the tile saw will give you the desired cut, clean and straight.
The hidden water reservoir is a nice system that does not make too much of a mess. However, make sure you attach a pipe and keep it running on low as the reservoir empties pretty quickly.
A really handy device for DIY and household work, especially if you are working with tiles and other masonry materials.
SKIL 3540-02 Specifications
| | |
| --- | --- |
| Style | Wet tile saw |
| Cut material | Stone/Masonry |
| Amperage (amps) | 4.2 amps |
| Blade Diameter | 7 inches |
| Depth of cut (in.) | 7 inches |
| Cutting angle | 0-45 degrees |
| Arbor size | 5/8 inches |
| Diagonal cut size | 7.25 inches |
| Horsepower (hp) | Unknown |
| Speed (max) | 3,600 RPM |
| Power source | Corded Electric |
| Warranty | 30-day money-back guarantee, 1-year warranty |
Verdict
The SKIL 3540-02 is a superb DIY wet tile saw for homeowners that is powerful, affordable, efficient, and reliable. With a decent motor and a stainless-steel top built together in a compact system with an attached blade cooling water reservoir, it outsmarts most of its competitors. If you are looking for clean, straight cuts without much hassle, go with SKIL.
#2 - PORTER-CABLE PCE980 Wet Tile Saw
A subsidiary of Stanley Black & Decker, Porter-Cable is a true American brand that has been around for more than a century. It's a pioneer in the field and is also credited with inventing the portable band saw. This tabletop tile saw, then, becomes a star device. Doesn't it?
Great Value: PORTER-CABLE PCE980 Wet Tile Saw
Pros
Wide work area and miter square

Splash guard makes less of a mess while cutting

Sturdy table
Cons
Beginners might require getting used to

Small reservoir
Tile Saw Review
Sometimes you need some weight in your handyman's machine to cut those tiles in shape without the table wobbling. That is where this Porter-Cable model stands apart when you compare it with other saws on this list.
This is a wet tile saw under $300, which naturally makes it a better choice than the SKIL model we saw above. This one is not only sturdier, but also has a larger work area, better water containment (although the reservoir is still small), and a roll cage for easy portability.
Working on it is like a dream come true: you don't have to apply any stress, you can adjust the wall on the steel surface, plus there's a miter square onboard. What more do you need?
If you are looking for clean and straight cuts without having to stress or put effort into it, get the PCE980 and forget all your worries. This tool runs and performs like an immortal ballet dancer on an international dance floor. Get it today!
PORTER-CABLE PCE980 Specifications
| | |
| --- | --- |
| Style | Wet tile saw |
| Cut material | Stone/Masonry |
| Amperage (amps) | 6.5 amps |
| Blade Diameter | 7 inches |
| Depth of cut (in.) | 7 inches |
| Cutting angle | 0-45 degrees |
| Arbor size | Unknown |
| Diagonal cut size | 12 inches |
| Horsepower (hp) | 1 HP |
| Speed (max) | 2,850 RPM |
| Power source | Corded Electric |
| Warranty | 90-day money guarantee, 1-year free service, 3-year warranty |
Verdict
When you get the brand guarantee of SBD and the promise of a tabletop machine that is powerful and effortless, tile sawing becomes a routine task. A walk in the park. If you have a better budget and are looking to get some great work done this year, opt for this Porter-Cable PCE980 tile saw.
#3 - DEWALT Wet Tile Saw with Stand, 10-Inch (D24000S)
Everyone knows DeWALT and the reliability that it gives. With a DeWALT tool, you can stop worrying about the work and let your imagination fly high. Perfect for a homeowner or a DIYer.
Best Tile Saw for Contractors.: DEWALT D24000S
Pros
10-inch wet tile saw with stand and powerful 1.5 HP motor

Compact and removable saw frame for easy portability

Dual-nozzle water placement for easy cooling

Easy water drainage setup

Top speed of 4,200 RPM
Tile Saw Review
This tile saw is more for professionals and contractors, owing to its higher price and versatility. But don't let those figures hold you down, because this one is a real beast, packing immense power in its compact size.
A 1.5 HP high-torque motor takes care of any material you throw at it, plus the sharp DeWALT blade that is far, far better than the stocks that come with the SKIL and Porter-Cable models above. This means you can unbox this machine and start cutting right away.
The water placement and containment might look tricky but it's a godsend; truly a superior design that needs to be lauded for its user-intuitiveness. There are two nozzles whose flow can be adjusted to avoid spraying or mist.
What's more?
The drainage can be easily fixed to a bucket so that you don't mess up the work area. The compactness complements its portability and you can carry it around in the work site.
All in all, the DeWALT D24000S wet tile saw is already a hero product in the market, loved by both contractors and homeowners alike. It will never let you down, and if it ever does, DeWALT's excellent customer support will take care of your needs.
DEWALT D24000S Specifications
| | |
| --- | --- |
| Style | Wet tile saw |
| Cut material | Stone/Masonry |
| Amperage (amps) | 15 amps |
| Blade Diameter | 10 inches |
| Depth of cut (in.) | 3-1/8 inches |
| Cutting angle | 0-45 degrees |
| Arbor size | 5/8 inches mm |
| Diagonal cut size | 18 inches |
| Horsepower (hp) | 1.5 HP |
| Speed (max) | 4,200 RPM |
| Power source | Corded Electric |
| Warranty | 90-day money guarantee, 1-year free service, 3-year warranty |
Verdict
If money is not an issue, then you can definitely get your hands on this, perhaps the best tile saw for contractors. The D24000S is powerful, reliable, easy to handle, and cuts like a charm. We don't see you having any problem with this beast for years. Own it today!
#4 - CHICAGO ELECTRIC 2.5 Horsepower 10" Industrial Tile/Brick Saw
You cannot call Chicago Electric an underdog because it has been around for more than a century. It mostly deals with control systems and technology but its machines and tools are also top-notch, as will be evident from the review of this 10-inch tile saw.
Most Powerful: CHICAGO ELECTRIC 2.5 Horsepower 10" Industrial Tile/Brick Saw
Pros
High power motor with 2.5 HP

Precision-based cuts that give you total control over the tile and the shape

Reduced vibration

Heavy-duty build
Tile Saw Review
When you compare this with specifically the DeWALT beast above, the features that stand out are a sturdier frame and stand (although this model does not come with the stand), reduced vibration, and a more powerful motor. It can tackle any material you throw it – from porcelain tiles to rocks to stones for flooring projects.
The setup is also smarter here with more linear water placement and containment. While there will be water spills if you work on it for more than an hour, say, but it's far better than how it is in the SKIL model above, which is made for small-scale home projects. This tile saw is for large tiles and you can get it done in half the time.
Clean cuts thanks to the precision linear bar system and a sturdy steel frame further make it a favorable choice for contractors, professionals, hobbyists who need more strength and versatility.
CHICAGO ELECTRIC Tile Saw Specifications
| | |
| --- | --- |
| Style | Wet tile saw |
| Cut material | Stone/Masonry |
| Amperage (amps) | 15 amps |
| Blade Diameter | 10 inches |
| Depth of cut (in.) | 3-1/2 in. @ 0°, 1-1/2 in. @ 45° |
| Cutting angle | 0-45 degrees |
| Arbor size | 5/8 inches mm |
| Diagonal cut size | 18 inches |
| Horsepower (hp) | 2.5 HP |
| Speed (max) | 3,800RPM |
| Power source | Corded Electric |
| Warranty | 90-day free return |
Verdict
Need industrial power? Go with this Chicago Electric tool that is the best tile saw for the money. 2.5 HP motor, lean and precision-based cuts, less mess, and a robust frame that will last for decades. Don't think twice.
#5 - SKIL 3550-02 7-Inch Wet Tile Saw with HydroLock Water Containment System
Another SKIL tile saw on this list, this time with some notable features for a few ten dollars extra.
Best Tile Saw under $200: SKIL 3550-02
Pros
Easy to use due to less weight and easy maintenance

HydroLock water containment system avoids spillage

Can cut wider tiles
Cons
Poor cut markings which can get erased quickly after heavy use
Tile Saw Review
You might wonder why the 3550 is priced almost double the 3540. Well, there are differences and ones that might make you upgrade if you already own the older one.
Notably, this top-rated tile saw for homeowners can saw tiles that are up to 18 inches. That's an upgrade of more than 33% when you compare, which gives you a lot more options to work with. Moreover, the aluminum tabletop makes the entire setup lightweight and easy to carry. Another advantage – you can move it around your house (kitchen to bathroom to patio) without straining yourself.
But what really takes the pie is the HydroLock system (which is yet to be patented). What it does is contain the water near the blade so that there is no spillage in the work area. So, if you love non-messy jobs, you should get the SKIL 3550, arguably the best tile saw under $200.
Verdict
Contain water like a boss and avoid spillage, work with larger tiles and bricks, and use it as a handy tool from location to location. Those are the top three highlights of the SKIL 3550, a wet tile saw that is totally worth the price and is easy to use.
#6 - QEP 22400Q 3/5 HP Torque Master Tile Saw
Ever since it was founded in 1979, QEP has been involved in home improvement tools. You could even call it a small-time pioneer in the field, which is evident from this a class-apart plastic portable tile saw.
Portable: QEP 22400Q 3/5 HP Torque Master Tile Saw
Pros
Clean cuts on marbles, stones, tiles

Lightweight, compact, and highly portable

Water recirculation system prevents work area from getting messy
Cons
Slow

Water recirculation may not help with long-duration tasks
Tile Saw Review
At first look, we thought this was a joke. The low price and the plastic build worried us, but it's only when it starts working that you see its real worth. Sort of like the chihuahua of small wet tile saws. Really.
The plastic build makes it lightweight but you can still cut through porcelain tiles and small marbles with ease, like a hot knife on butter. It glides through the materials despite the light frame. The 4-inch blade capacity is good enough for home projects, which is why we don't recommend bigger tiles or marbles.
The water recirculation is another bit that might seem like an advantage but is not really one. It's a good feature if you are doing a short work of, say, 10 minutes. But go beyond that and you will see clay, semi-solid solution being circulated, which does not help in the cooling process. But for the price, it does not get better than this.
Pro Tip – Always use clean water when sawing using a wet tile saw.
Verdict
This QEP 4-inch portable tile saw will be a perfect fit for starters and beginners, with its strong motor, plastic body, and easy water containment. It just cuts tiles and slates and does a great job at it. If you have qualms about borrowing tools from your friends, this under $100 tile saw is for you.
#7 - Ryobi 4 in. Handheld Tile Saw
We have seen American and Chinese tech till now. It's time for some Japanese invention.
Best Handheldtile Saw for DIY : Ryobi 4 in. Tile Saw
Pros
Handheld operation provides ultimate ease and portability

Proper low-pressure waiter-based blade cooling system

Can act as a complement for large tile saws
Cons
45-degree angle cuts do not go deeper (for broad tiles)
Tile Saw Review
Say goodbye to portable tile saws and say hi to handheld ones. Let us introduce you to this Ryobi tile saw that is perfect for homemakers and contractors alike. Easy to hold and operate, fast enough for most tile and project types, and with a proper blade-cooling system, it works wonders.
The only issue we had with this handheld tile saw is that the 45-degree cuts do not yield the whole tile if it's broader. This can be a problem for some, especially if you are removing existing tiles off a bathroom or kitchen wall.
But for the price, Ryobi delivers ultimate portability. Which is what you need sometimes.
Verdict
Ryobi brings portability and affordability together with this best tile saw for DIY and home projects. Get routine tile-based cuts and trims done with this one-of-a-kind machine that will soon become an essential part of your toolkit.
#8 - PORTER-CABLE 20V MAX Cordless Wet Tile Saw (PCC780LA)
Did someone say cordless? Porter-Cable comes to the rescue.
Best Cordless Tile Saw: PORTER-CABLE Wet Tile Saw (PCC780LA)
Pros
Cordless, battery-operated

High portability

Solid frame, easy to maintain, good water containment system
Cons
Charging takes about 3 hours
Tile Saw Review
We have discussed portable wet tile saws. We also discussed a handheld one. What's an even better type then? Battery-powered cordless tile saw that packs equal punch as its wired counterparts and acts as a safe option when you travel a lot.
Meant for contractors who are busy all the time or move around between sites, this tile saw for DIY that uses Lithium-ion batteries is perfect. Sure, it cannot cut natural stones nor does it have very good strength, but the comfort of using a tool without having to plug it in is rare.
If that is what you are looking for then our job is done here. The battery takes about three hours to charge and can last for quite some time before you run out. Unfortunately, there is no backup unless you have a pair of batteries handy.
Verdict
Looking for a good tile saw for small jobs that is light on your pocket and is tech-savvy? This Porter-Cable PCC780LA battery-powered tile saw should be on your buy list. It has a decent motor and water containment, a solid frame, and sufficient strength to cut through tiles and slates.
Best Tile Saw Brands on the Market
While the most critical factors while choosing the best wet tile saw are motor strength, build, water containment, and blade's cutting capacities, the brand (manufacturer) and its trust quotient should also matter.
Many professionals and home users stick to the brands that they know or whose products they are familiar with. But, sometimes there may be an alternative brand that could be offering a better model. This is a good reason to explore other brands while you go tile saw hunting.
Here's a quick look at different top-rated tile saw brands:
DeWALT – A legendary manufacturer of mechanical engineering products, DeWALT tile saws are reliable and strong. There are no two ways about it. Just look at the model featured on this list and you will see what we mean (dual-nozzle water system, compact design, versatility)

SKIL – Affordable and reliable, SKIL is every man's friend. Its products are known to improve efficiency multifold and make your life easier

QEP – QEP may seem like an underdog but it's a pioneer in itself, focusing on home improvement tools. The QEP tile saw that we featured, for instance, is made of plastic. Which other company offers such a tool?

Porter-Cable – Similar to SKIL, Porter-Cable is known for affordability and strength. Plus, it's part of a conglomerate, so you know you are getting the best of the best

Ryobi – The green-colored tools are popular all over the USA. Plus, the brand is known for its variety; just see how different the Ryobi wet tile saw is on this list (the only handheld tool)

Chicago Electric – Another underdog but renowned for industrial-grade tools and machinery

MK Diamond – Another name for affordability, this is a small-scale manufacturer based in America

Imer Group – Construction equipment specialist, so you can't go wrong with its tile saws

Rubi – Similar to SKIL but German

Goldblatt – A US-based company founded by a German in 1855. Known for its pioneering work in electrical and mechanical tools in the country, which are renowned globally

Husqvarna – Perhaps the oldest brand on this list
Other lesser-known brands include Ridgid, Makita, Delta, and Kobalt.
Tips to Choose the Right Tile Saw
A collection of tips that will help you buy better:
Always buy a wet tile saw depending upon the type of tiles you are going to cut (ceramic, porcelain, natural, glass, slate, etc.)

A handheld tile saw would be a good bet for beginners who have never used one

When looking for cheap tile saws, go with lesser-known brands to get a better deal

Avoid buying small and compact tile saws if you intend to use to cut large-format tiles and slabs

The difference between a 10-inch tile saw and a 7-inch tile saw should not just be about the tile's length, but also build quality, surface (tabletop), blade and motor strength, and other elements of the tool

Always check the water containment system before buying a saw

Handheld wet tile saws are great for two things: repair work and as complementary to large-format saws

For thicker slabs and tiles, go with a saw that has a higher horsepower

When buying a dry tile saw, consider the dust-free element of the tool

Consider buying an entry-level tile saw instead of borrowing one to save more
Final Verdict
We hope this guide has helped you find the best tile saw in the market right now. We know it's not that easy but you should know that these eight models are the best right now. The reason why we featured models from different brands is to give you options regarding versatility and features.
But, in case you are still unable to make up your mind, here are our top choices out of the eight:
SKIL 3540-02 – Easy on the pocket, clean cuts, and low maintenance – it's the perfect tool for homeowners

PORTER-CABLE PCE980 – Bump up that budget and get this one if you are looking for more robustness and strength

DeWALT D24000S – The most common choice because of the brand guarantee but also because of its compact size and superior water containment
Choose one of them and make your tile cutting projects easy, effortless, and fast.